Sunday 31st January, 2021
GATHERING THE PEOPLE
Welcome and Announcements 
Welcome to Engadine Uniting Church. We are working towards making this a safe place for all people to worship regardless of race, creed, age, cultural background or sexual orientation. A warm welcome is extended to all. Your presence both enriches us and this time of celebration together.
Acknowledgement of country
Let us begin our service by repeating the acknowledgement Shane used last Sunday, that was developed by the Uniting Church Assembly for their Day of Mourning Resources:
We acknowledge the Dharawal peoples, the first inhabitants of this place from time beyond remembering.
We acknowledge that through this land, God nurtured and sustained the First Peoples of this country, the Aboriginal and Islander peoples.
We honour them for their custodianship of the land on which we gather today.
We acknowledge that the First Peoples had already encountered the Creator God before the arrival of the colonisers; the Spirit was already in the land, revealing God to the people through law, custom and ceremony.
We acknowledge that the same love and grace that was finally and fully revealed in Jesus Christ sustained the First Peoples and gave them particular insights into God's ways; and so we rejoice in the reconciling purposes of God found in the good news about Jesus Christ.
Lighting of the Christ Candle
We are still in the season of Epiphany. Epiphany can happen anywhere to anyone. This moment of sudden and great revelation or realization is very well symbolised by light. Let us light the candle of Christ as we walk - or sit - in holy places:
Perfect Light of revelation,
as you shone in the life of Jesus,
whose epiphany we celebrate,
so shine in us and through us,
that we may become beacons of truth and compassion,
enlightening all creation with deeds of justice and mercy. Amen
Call to worship 
Take off your best shoes; you may need to cross a rocky path. 
Take off your head covering; God may wish to kiss your forehead with a holy breeze. Take off the thing that protects you; feel the warm presence of the people around you. God is in the air, and God is in the space between us. 
God will make the emptiness and the vulnerability we may bring into a holy place. 
Come, let us worship!
Prayer Of Invocation/Welcome
God, we trust that you are in the holiest of holies. We also trust that you can make all places holy. Guide our understanding of your presence, so we will find comfort wherever it is available. Guide our hearts so that we may be drawn toward places that will challenge our beliefs about what is holy.
Hymn/Song: 10,000 Reasons (Matt Redman) 
Bless the Lord O my soul
O my soul
Worship his holy name
Sing like never before
O my soul
I'll worship your holy name
The sun comes up
It's a new day dawning
It's time to sing your song again
Whatever may pass and whatever lies before me
Let me be singing when the evening comes
You're rich in love and you're slow to anger
Your name is great and your heart is kind
For all your goodness I will keep on singing
10, 000 reasons for my heart to find
Prayer of adoration and confession
O God, we come to the holy places and can feel like imposters. You see our shame and care about the way we feel when we have been hurt. We seek forgiveness. You see our grief and care deeply about those we love. We seek your healing Peace. Guide us toward grace, mercy, hope, and abundance. Help us hold the hands of those who want to come into and through the holy places you inhabit. Amen.
Words of Assurance/Affirmation
God sees what we cannot. God sees the full extent of the struggles we face. God sees, loves, empowers, and keeps us in grace. God's forgiveness is ageless and abundant.
Thank you God
HEARING THE WORD
Readings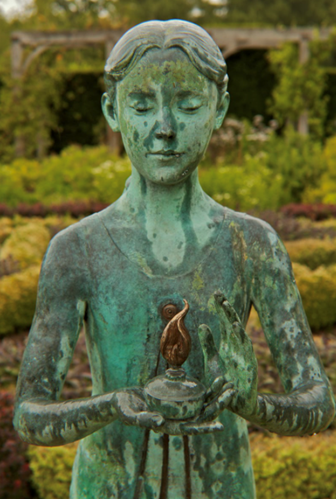 Today's readings are about epiphany and authority, about God being revealed at work in the world. Do read Psalm 111 sometime today - it lists the miraculous ways God shows up in the way we are nourished, the way we understand our cultural heritage, and the way we act justly toward one another in community. This 
leads right into Paul's letter to the Corinthians where he speaks about eating food offered to idols, demonstrating that knowing right from wrong is not as important as knowing how to care for one another. (Image: Lamp of Wisdom sculpture, Waterberry Gardens, Oxfordshire)
The Old Testament reading describes a caring prophet, one who supports exhausted preachers and who speaks God's words in God's name, God's word can show up in surprising ways, holding people accountable if that is what we need.
In the Gospel, Jesus shows up in a surprising way – as a teacher with a difference. Mark presents Jesus as one who teaches with the independent authority of God and the backing of his deeds. Jesus demonstrated a divine authority that had not been seen before and was perceived as a threat to the scribes. Jesus' treatment of the ill was amazing. His actions disrupted social norms. Social, political, and religious authorities came to view Jesus as a blasphemer and revolutionary, despite his apparent divine authority.
Epiphany is not always a matter of where we encounter God; it may be a
question of who journeys with us as we come through the holy places. Which begs the question, how are we a part of the holy places? Do we carry them within ourselves? What if the holiest places are not a church or cathedral but carried
in our hearts and minds?
Let us pray: God, please open our ears and minds and hearts so that as we hear the words of the Bible, you will speak to us and bring us new life.
Reading 1: Deuteronomy 18:15–18
Reading 2: Mark 1:21–28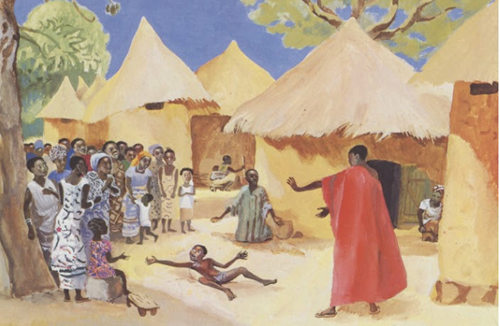 (Image: The Possessed. MAFA art project in Cameroon, 1973)
Reader: Through these readings we hear God speak. Thank you, God, for your words of life.
 Hymn/Song: Nothing Can Trouble (Taize)
MESSAGE                                            "To be set free to live life!"
My dear friends, one of the most amazing things about the Scriptures is that they can speak afresh to us even though we may have heard particular words many times before. That can happen because the Holy Spirit, if we are open to it, engages with the unique daily lives each one of us lives, because each of our lives is precious and important to God. It is the Incarnation at its best.
God's Word speaking to us individually and as a community of the faith, TODAY.
And today, we are numb and grief stricken at the sudden and unexpected death of Sandra whom many of you have known since she and John first settled in Kilmarnock Rd nearly 50 years ago.
That grief today may leave us vulnerable. We come into this worship space claiming it as a 'safe place' for all that we bring and all that we remember about how her life interacted with ours. At a very simple level, Jan had pencilled in just 3 weeks ago, that next Sunday would be the day Sandra was to read the Scriptures for us along with Ian and how his life has changed in those 3 weeks too.
So today out of that vulnerability and love, loss and grief, our spirit may be more open to new insights through the Holy Spirit as the Scriptures are read and songs are sung; what we 'hear' may be profoundly different to how we may have 'heard' them previously.
So let us look at today's passages of Scripture and see what we might discover, together.
One of the many claims that were made by the disciples about Jesus is that not only is he the 'new Adam' but also the 'new Moses' who leads his people and intercedes before God on their behalf. However unlike Moses who doubted at the last and so died without entering the Promised Land, Jesus journeyed to Calvary and the empty tomb and so intercedes for all time, for us and to us through the Holy Spirit.
And the key to who this 'new Moses' might be is found in today's Old Testament reading: 
"God will raise up for you a prophet like me from among your own people…and I will put my words in the mouth of the prophet, who shall speak to them everything that I command".
When those in the Synagogue in Capernaum heard Jesus speak with such authority they literally remembered these words from Deuteronomy, such was their knowledge of the Scriptures. Unlike most of us, who may remember bits and pieces of Scripture, God's people in our Lord's day wrapped it around their lives in ways most of us can't appreciate, and so when something resonates deeply, they can often see the sign posts it points to. Wow.
To have that sort of intimate knowledge of and understanding, amongst ordinary folk from Galilee. And Jesus is one of our own people, from Galilee! Humbling, inviting, hope-filling.
And what authority it was.
They saw in Jesus, what we all long for, that words spoken and deeds performed are one and the same. Here, no political speak that comes cheap and bears little resemblance to, or a truly hands on engagement with peoples' lives. Those who should speak with authority don't and our trust in them is diminished. We can identify with that in our political leaders!
It seems this was also their experience in the synagogue at Capernaum.
In the Greek the phrase 'to speak with authority' firstly means, with our reference to the Deuteronomy reading, that the One who speaks with authority does so on behalf of God the Father. It also means not just someone telling from on high what you must do with a loud voice, but the word authority also means "speaking with freedom" a freedom to truly speak to the daily lives that people lived!
Here in the story of the man with an unclean spirit, Jesus sets him free. True authority does that, it doesn't bind or enslave to an ideology or to a personality cult, this authority which Jesus spoke with truly sets people free to be the very people God has longed for them to be since the beginning of Creation. Here in this story Jesus preached, which is always the risk every preacher takes but we who preach must also be careful! To quote from the Rev John Flynn in the early days of his ministry in the Outback 100 years ago. "Padre, you God-botherers from the south, may be of some heavenly value, but unless you are of some earthly use then you can…" (and you can add your own adjectives!)
And that I think says it all. There is this deep longing within all of us to be truly heard, to have someone we can trust completely, who won't rip us off, who in the context of these past few days, can sit with us and our grief and loss, who doesn't respond with cliched one liners but walks with us at our own pace as we talk about loss, grief, illness, prayer, death, heaven, anger and vulnerability and all the things we might have said but didn't. Will Sandra know how I truly feel? Will we 'see' her again?
It is in particular, Jesus' commitment to be with us, on this journey to be that safe place for all that we bring that those in the synagogue first heard. All of the questions we may bring are just as real and important to us whether the person we loved died at 31 & 37 like the young couple in Brisbane or at 77 or at 107.
Jesus came amongst a group of people on a Saturday morning in Capernaum on the western side of the Sea of Galilee. By His Spirit, he comes to this place where we gather today, and speaks to each of our hearts with the authority of the One who truly knows us, that we too might be set free to live life. To see in Him, with overwhelming joy, the One to follow for the rest of our days. Amen.
RESPONDING TO THE WORD
Hymn/Song: God of Mercy, God of Grace (Monica O'Brien)
God of mercy, God of grace
Come among us, fill this place
Heal our hurting, mend our wounds,
Come among us with your grace.
Pour your love upon us now,
Touch our spirits, make us new.
See our longing, hear our prayer,
Come among us with your grace.
Bless this moment, take our hearts
Use our hands to honor you
With our voices we will sing
"Come among us with your grace".
Prayer of offering or dedication
We have entered this holy place without any trepidation. We now freely leave behind a piece of our treasure, in faith that courage will lead to more courage and we will be amazed by your willingness to provide for us and our willingness to give to those who have less. Amen.
Prayers of the people 
One: We pray for the lonely ones
knowing that some of us are lonely
and we pray for the heartbroken ones
knowing that some of us are heartbroken
Two: All our hearts and minds are leaning in with clear intention
joining in your way of love in the world
One: We pray for the wounded
knowing that some of us are wounded
and we pray for the regretful ones
knowing that some of us are regretful
Two: All our hearts and minds are leaning in with clear intention
joining in your way of love in the healing
One: We pray for the starving ones
knowing that some of us are starving
and we pray for the imprisoned ones
knowing that some of us are imprisoned
Two: All our hearts and minds are leaning in with clear intention
joining in your way of justice in the world
One: We pray for the dying ones
knowing that some of us are dying
and we pray for the newly born ones
knowing that some of us are arriving
Two: All our hearts and minds are leaning in with clear intention
joining in your way of love in the world. Amen.
Christopher Grundy (c) 2013 Hand and Soil Music
Benediction
May the authority of Christ Jesus keep you from all evil.
May he endow you with great love and fill you with joy and praise.
May you share your blessings and experience the special happiness of the generous.
The grace of the Lord Jesus Christ, the love of God, and the fellowship of the Holy Spirit, will be with you now and always.
Amen!
Benediction Song: Leaning In, a prayer of intention (same as above, set to music)