Who are we?
We are a fellowship of reconciliation, living God's love and acting for the common good to build a just and compassionate community.
As part of the Uniting Church we are called to carry forward the work Jesus Christ began in all aspects of people's lives. Our mission is to be a living presence of God in the community and to follow the example of Christ so God's transforming love may be experienced by all.
Our congregation members have different life experiences and views on theology and politics, but because we all share a desire to follow Jesus, we allow people the space to be themselves. We encourage inclusiveness and equity and we appreciate the ministry of one another and respect each other even when different views are held.
Our Worship Services.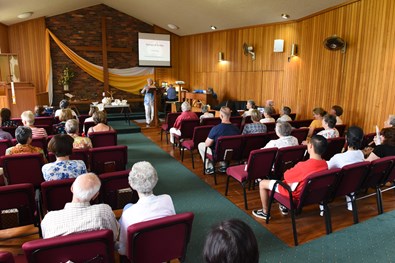 We meet for worship every Sunday Morning at 9 am, at the Engadine Uniting Church cnr Cambrai Ave and Chipilly Ave,  Engadine.  Come and check out what we are like.
We also have worship services for the elderly residents at John Paul Village, Heathcote East.   These services are held on the First and Third Wednesdays of the month commencing at 2.15 pm. Normally Communion is served on the first Wednesday.
Worship services are also held for the residents  at Garrawarra Centre, Old Princess Highway, Waterfall. These services commence at 10.15 am on the Second Tuesday and Fourth Monday of the month.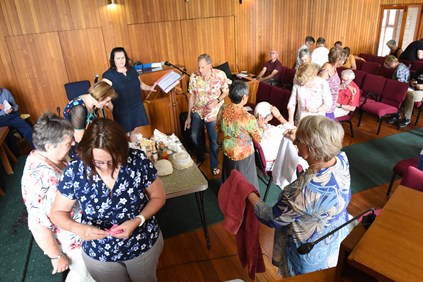 What to expect when you visit us
Starting at 9am each Sunday, our usual services take about an hour with 40-45 people. We match our informal liturgy with good humour and a casual, relaxed atmosphere.
Various sections of the service are usually lead by different members of the congregation with each service engaging congregational participation through singing, liturgical responses as well as on occasion dramatic and creative activities.
The sermon is normally structured around the weekly readings from the Revised Common Lectionary, varies between 12-20 minutes, and aims to have real-life application. Our sermons, prayers and even the words of our hymns do not shy away from politics, economics and other current affairs.
Following the service we have morning tea in the hall where lively discussion of the service and the message often takes place.
Communion:
Our communion service is held once a month, normally on the first Sunday. The minister presides over the Communion table and two Congregational members serve the bread and then grape juice in individual glasses. Normally the congregation remain seated whilst being served.  All are welcome to participate, including children.
Accessibility: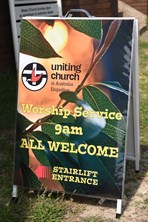 We have an internal stairlift as an alternative to the external steps.  Just to the left of the front steps you will find a street-level entry door which takes you to the stairlift. Ring the bell next to the door for assistance.
Baptisms, Weddings and Funerals.
We are happy to conduct Baptisms, Weddings and Funerals and you can make inquiries with the Rev Paul Bartlett on 0439 458 204.
History
Engadine Uniting Church has a rich history which you can read about here.
Our Community Newsletter
To find out more about about our church and activities you can subscribe to our weekly newsletter here
Other Matters?
For administrative, property, hall hire and other matters, please send an email to Administration via the Contact Us page.

We acknowledge the Dharawal Peoples, whose sovereignty was never ceded. We pay respect to Elders past, present and emerging.