This service utilises material from the Uniting Church Assembly Day of Mourning Resources.

ACKNOWLEDGEMENT OF FIRST PEOPLES
We acknowledge the Dharawal peoples, the first inhabitants of this place from time beyond remembering.
We acknowledge that through this land,
God nurtured and sustained the First Peoples of this country,
the Aboriginal and Islander peoples.
We honour them for their custodianship of the land on which we gather today.
We acknowledge that the First Peoples had already encountered the Creator God before the arrival of the colonisers;
the Spirit was already in the land, revealing God to the people through law, custom and ceremony.
We acknowledge that the same love and grace that was finally and fully revealed in Jesus Christ sustained the First Peoples
and gave them particular insights into God's ways;
and so we rejoice in the reconciling purposes of God
found in the good news about Jesus Christ.
CALL TO WORSHIP
Our land is alive with the glory of God; desert sands hum and gum trees dance.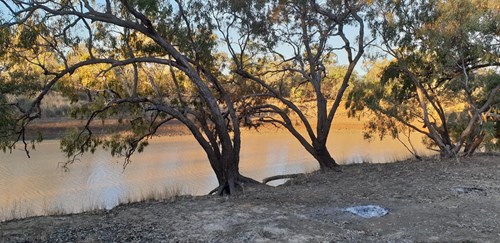 Brown grasses sing
and mountains breathe their stillness.
All created things add their rhythms of delight
and even stones rap out their praise.
Let our voices mingle with those of the earth; may our hearts join the beat of her joy,
for our triune God is with us:
the Source of all being surrounds and upholds us. 
Christ Jesus walks beside and before us.
The Spirit moves within and between us. Blessed be God, our wonder and delight.
HYMN/SONG
GREETING
Today friends, we are remembering the tragic history of our nation and the violent dispossession of her First Peoples.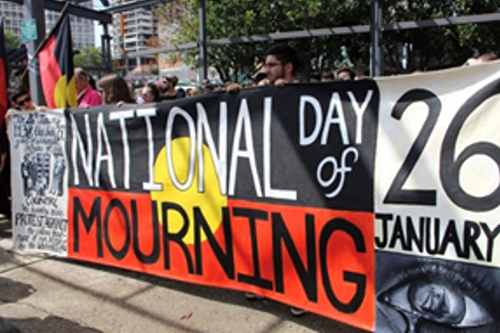 Today is a Day of Mourning. Today we mark in lament the truth of our shared history and we lift up to God our prayers for First Peoples and our nation.
We say sorry and we pray for forgiveness, healing and hope. But today is also a day of worship. So we come together and give thanks to God for the abundant grace and liberating hope which we know through Jesus Christ and which is for all people.
The God of all justice, 
The God of all peace, be with you all.
And also with you.
PRAYERS
INVOCATION 
Abba, Father, Bäpa God, source of all life,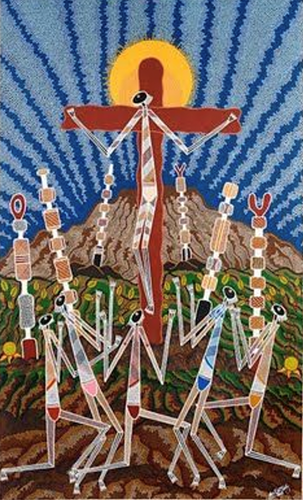 answer our call,
as a mother responds
to the cry of a child in the night.
Jesus Christ, brother and friend, Liberator,
stand beside us
as bearer of our humanity, and sharer of God's grace.
Creator Spirit, giver of new life, purposeful guest, prod us to praise,
calling us to be a people
of hope and faith in Christ Jesus.
Amen.
LAMENT AND CONFESSION
Merciful God,
we, the Second Peoples of this land, acknowledge and lament the injustice and abuse that has so often marked
the treatment of the First Peoples of this land.
We acknowledge and lament
the way in which their land was taken from them and their language, culture, law and spirituality despised and suppressed.
We acknowledge and lament
the way in which the Christian church
was so often not only complicit in this process but actively involved in it.
We acknowledge and lament that in our own time
the injustice and abuse has continued. We have been indifferent.
Gracious God, hear our acknowledgements — We have not loved you with our whole heart,
nor have we loved First Peoples and other neighbours as ourselves. God of mercy,
forgive us for our failures, past and present and give us the grace today to make a fresh start.
By your Spirit transform our minds and hearts so that we may love as you have loved us, that we may boldly speak your truth
and courageously do your will. Through Jesus Christ our Lord. Amen.
DECLARATION OF FORGIVENESS
This is the best of all:
When we are empty, God fills us;
when we are disheartened, God is compassionate; when we are wounded, God brings healing;
when we confess our sin, God forgives.
In Christ, through Christ and because of Christ, our sins are forgiven.
Thanks be to God.
You refill the cup of life, O God.
In Christ, we find refuge, strength and hope. Amen.
HYMN/SONG
TIME OF LISTENING
Our reflection piece comes from a familiar face to us, Brooke Prentis. In this 15min video she centres around the theme of justice, particularly relating to First Nations Australians, as well as some reflections on the year of 2020
Brooke Prentis is an Aboriginal Christian Leader and a descendant of the Wakka Wakka peoples. Brooke is the CEO of Common Grace and Coordinator of the Grasstree Gathering.
https://www.youtube.com/watch?v=DnGYYtUt8Hw
TIME OF SILENCE/REFLECTION
 Spend a moment or two in silence to reflect on the words you have just heard
PRAYERS OF THE PEOPLE
Give us the courage to accept the realities of our history
so that we may build a better future for our nation. Teach us to respect all cultures.
Teach us to care for our land and waters.
Help us to share justly the resources of this land.
Help us to bring about spiritual and social change to improve the quality of life
for all peoples in our communities, especially the disadvantaged.
Help all young people to find true dignity and self-esteem by your Spirit.
May your power and love be the foundations on which we:
walk together as First and Second Peoples; and build our families, our communities and our nation
Through Jesus Christ our Lord.
Amen.
SENDING FORTH OF THE PEOPLE OF GOD
WORD OF MISSION
People of God,
go from here to live out the covenant into which we, the First and Second Peoples of this land,
have entered with one another.
Confront and challenge injustice wherever you see it. Act justly yourselves and insist that others do the same.
Rejoice in the richness of our diverse cultures and learn from them. Celebrate and demonstrate the unity we share in Jesus our Lord.
Commit to worship, witness and serve as one people under God, Until God's promised reconciliation of all creation is complete
BLESSING
Bless us therefore, as we depart this place:
give us a generous spirit, a kind heart,
and the grace to walk alongside our First Peoples, as brothers and sisters in Christ. Amen
LISTENING SONG
Djarimirri (Child Of The Rainbow)
Take a few minutes at the end of this service to sit and listen to the voice of Gurrumul
Hear ancient language sit at the front of the piece, dictating the flow, rhythm and energy of the sound. The western instruments of the orchestra (mostly string instruments) following the lead of the prominent vocals, sitting beside and around this voice, supporting and uplifting it through the piece. In many ways I feel this song as a representation of reconciliation, two distinct styles of music working together from opposite ends or the world (Western/European and Aboriginal Australian), they listen, hear and respond to each other to create something beautiful. Do you feel any themes emerging from this piece?