Engadine Uniting Church, Order of Service for Sunday 15th November 2020.
The service has been compiled by Sue with the assistance of resources created by Rev Bruce Prewer and Rev Rex A. E. Hunt, and Seasons of the Spirit by WoodLake Publishing.
GATHERING THE PEOPLE
Welcome and Announcements
Welcome to Engadine Uniting Church. We are working towards making this a safe place for all people to worship regardless of race, creed, age, cultural background or sexual orientation. A warm welcome is extended to all. Your presence both enriches us and this time of celebration together.
Acknowledgement of Country
For thousands of years Indigenous people have walked in this land on their own country. Their relationship with the land is at the centre of their lives.
Let us begin our service by acknowledging the Dharawal People and their stewardship of this land throughout the ages. We Acknowledge:
Our gratitude for this land we share today,
Our sorrow for the cost of that sharing,
Our hope that together in the spirit of Reconciliation,
we move to a place of justice and partnership,
As together we walk gently on this land.
Lighting of the Christ Candle
In the mystery of life about us there is light.
Let the light we kindle go before us,
strong in hope,
wide in good will,
inviting the new day to come.
Today we celebrate God beyond, beside and within us.
We celebrate the light of the world that guides us in the way and the truth.
We celebrate the Spirit that renews life, joy, and possibilities.
We symbolise this in the lighting the candle
Eternal and near at hand. 
Already and not yet.
Lighten the darkness of our world,
move in our hearts,
draw us deeper into the mystery of your being. 
Amen
Prayer of Approach
Most holy God, by your Spirit encouraging us, and the love of Christ enabling us, may we worship you with the enthusiasm born of true love. We join our voices with the millions who this day praise the name of Jesus from every nation on earth, and with the great host of heavenly souls whose praise and love fills the universe and flows far beyond all time and space. Glory be to you forever! Through Christ our King.Amen!
Opening Prayer
We live in a world where hunger, thirst, loneliness, sickness, and imprisonment exist for too many people. Loving Parent, you invite us to participate in the ways of healing and wholeness that would change this truth. In Jesus, the Christ, you came among us to show us how to love – modelling for us the ways of mercy, compassion, and justice. We hear Paul's words, admonishing us to understand Jesus to be "above all rule, and authority, and power, and dominion…and above every name that is named…in every age."
Be with us as we worship, and help us to gain strength for the journey, which continues beyond this day – journey of choices and forgiveness to which all people of faith are invited  we follow the Christ. Be with us, and help us to discover your guidance with every opportunity we encounter – the guidance of the shepherd – the guidance of Love Incarnate. Amen.
Hymn/Song:
Hymn/Song: When I needed a neighbour, were you there? (By Sidney Carter, arr. Thomas Hewitt Jones)
When I needed a neighbour
Were you there, were you there?
When I needed a neighbour, were you there?
And the creed and the colour
And the name won't matter
Were you there?
I was hungry and thirsty…(verse continues as above)
I was cold, I was naked...
When I needed a shelter...
When I needed a healer...
Wherever you travel
I'll be there, I'll be there
Wherever you travel, I'll be there
And the creed and the colour
And the name won't matter
I'll be there
Prayer of adoration and confession
It is sometimes hard to see beyond the ways of the rulers of our times –
the ways of power-brokering, politicization, and competition; It is sometimes hard to speak truth to "authorities" who abuse their privilege and create obstacles to the people.
It is sometimes hard to turn away from opportunities to join in the domination and exploitation that bleed into so many aspects of our lives.
It is sometimes hard to resist allowing people of notoriety to claim space in our imaginations and our hopefulness for the future.
We confess we are seduced by ease, access, accolades and ambition, and rarely consider that they may come at the costs of others' wholeness.
We confess that it is often just too easy to succumb to the constant temptations of our privilege and our situations, and proverbially, to walk past the suffering all around us.
Forgive us, Loving Shepherd, and nudge us onto better paths.
Forgive us and guide us into right relationship.
Forgive us and teach us to be like Jesus.
Forgive us, and reclaim us, we pray.
Baaa-men. (just a little humour!)
Words of affirmation
God desires our participation in the healing of the world. To feed the hungry, offer drink to those who thirst, welcome the stranger, and cloth the naked. But when we fail to do
so, in our contrition, God forgives. God's forgiveness is as eternal as God's love. Therefore, let us not only be assured of pardon, but let us reclaim our place among the people of
the Liberation Way, and journey on in God's light. Amen.
HEARING THE WORD
Readings
Let us pray: God, please open our ears and minds and hearts so that as we hear the words of the Bible, you will speak to us and bring us new life.
PSALM 100
Let the round world spin with joy!
Get with it and serve the Lord Jesus,
come singing into his presence!
 Know that he is from God and of God.
God made us to be Christ's people;
we are his friends and he our Pastor.
 Walk through his gates with thanksgiving!
Enter his holy places with praise
and give thanks to our Lord's name!
Only our God is authentically good;
Christ's love stays firm for ever;
he keeps faith with all generations!
    © B.D. Prewer 2001
11 "'For this is what the Sovereign Lord says: I myself will search for my sheep and look after them. 12 As a shepherd looks after his scattered flock when he is with them, so will I look after my sheep. I will rescue them from all the places where they were scattered on a day of clouds and darkness. 13 I will bring them out from the nations and gather them from the countries, and I will bring them into their own land. I will pasture them on the mountains of Israel, in the ravines and in all the settlements in the land. 14 I will tend them in a good pasture, and the mountain heights of Israel will be their grazing land. There they will lie down in good grazing land, and there they will feed in a rich pasture on the mountains of Israel. 15 I myself will tend my sheep and have them lie down, declares the Sovereign Lord. 16 I will search for the lost and bring back the strays. I will bind up the injured and strengthen the weak, but the sleek and the strong I will destroy. I will shepherd the flock with justice.
17 "'As for you, my flock, this is what the Sovereign Lord says: I will judge between one sheep and another, and between rams and goats. 18 Is it not enough for you to feed on the good pasture? Must you also trample the rest of your pasture with your feet? Is it not enough for you to drink clear water? Must you also muddy the rest with your feet? 19 Must my flock feed on what you have trampled and drink what you have muddied with your feet?
20 "'Therefore this is what the Sovereign Lord says to them: See, I myself will judge between the fat sheep and the lean sheep. 21 Because you shove with flank and shoulder, butting all the weak sheep with your horns until you have driven them away, 22 I will save my flock, and they will no longer be plundered. I will judge between one sheep and another. 23 I will place over them one shepherd, my servant David, and he will tend them; he will tend them and be their shepherd. 24 I the Lord will be their God, and my servant David will be prince among them. I the Lord have spoken.
Matthew 25: 31-46 (NIV)
31 "When the Son of Man comes in his glory, and all the angels with him, he will sit on his glorious throne. 32 All the nations will be gathered before him, and he will separate the people one from another as a shepherd separates the sheep from the goats. 33 He will put the sheep on his right and the goats on his left.
34 "Then the King will say to those on his right, 'Come, you who are blessed by my Father; take your inheritance, the kingdom prepared for you since the creation of the world. 35 For I was hungry and you gave me something to eat, I was thirsty and you gave me something to drink, I was a stranger and you invited me in, 36 I needed clothes and you clothed me, I was sick and you looked after me, I was in prison and you came to visit me.'
37 "Then the righteous will answer him, 'Lord, when did we see you hungry and feed you, or thirsty and give you something to drink? 38 When did we see you a stranger and invite you in, or needing clothes and clothe you? 39 When did we see you sick or in prison and go to visit you?'
40 "The King will reply, 'Truly I tell you, whatever you did for one of the least of these brothers and sisters of mine, you did for me.'
41 "Then he will say to those on his left, 'Depart from me, you who are cursed, into the eternal fire prepared for the devil and his angels. 42 For I was hungry and you gave me nothing to eat, I was thirsty and you gave me nothing to drink, 43 I was a stranger and you did not invite me in, I needed clothes and you did not clothe me, I was sick and in prison and you did not look after me.'
44 "They also will answer, 'Lord, when did we see you hungry or thirsty or a stranger or needing clothes or sick or in prison, and did not help you?'
45 "He will reply, 'Truly I tell you, whatever you did not do for one of the least of these, you did not do for me.'
46 "Then they will go away to eternal punishment, but the righteous to eternal life."                    
Hymn/Song Will we ever rise? (The Brilliance) This is not a worship song but one of lamentation and prophetic hope. 
Will we ever rise?
Will we ever rise above the fear?
Can we learn to see the need?
Can we share humanity?
I can see another day come
Broken people we can be made whole
We can be made whole
We can be made whole
As we lay down our weapons
Open up our hearts
Love is breaking us, Love remaking us
Will we ever rise?
Will we ever rise above the hate?
Can we learn another way?
Forgive as you forgave?
I can see another day come
Broken people we can be made whole
We can be made whole
We can be made whole
As we lay down our weapons
Open up our hearts
Love is breaking us, Love remaking us
Come heal now, take away the blindness
So we can see as we were meant to see
I feel light devastating darkness
I can see…
Sermon/Reflection Bruce Hanna
Vulnerable King
The wife of the president of the USA is referred to regularly as "the first lady";  When Gloria Macapagal Arroyo was president of the Philippines her husband was "the first gentleman".  Even as many nations have replaced their monarchy with a republic, there is still a strong tendency to look to one person to be a strong leader.  In the tradition of the past 95 years today has been labelled "Christ the King", more recently "Reign of Christ" Sunday.  The Bible does use the imagery of a monarch, and yet the overwhelming message is of a leader who is a shepherd – a traditional Middle Eastern shepherd who knows his sheep as individuals.
The American preacher Debie Thomas suggests that from the way we usually think of kings, we might expect the lectionary to give us readings that sound really kingly.!  "Something gorgeous from the Book of Revelation, perhaps, about Jesus decked out in splendid robes and a jewelled crown.  Or something majestic from Isaiah: 'A son will be given to us, and the government will rest upon his shoulders.'  Or a shiny moment from the Gospels:  Jesus transfigured on the mountaintop.  Jesus raising Lazarus from the dead.  Jesus emerging from the waters of baptism, heaven thundering in his ears."
But even among the old Hebrew prophets such as in today's passage from Ezekiel, God is depicted as being a shepherd-like leader:  A shepherd who will "seek the lost, bring back the strayed, bind up the injured, strengthen the weak, but destroy the fat and the strong!"  So there's severe judgement here as well as strong and gentle caring, judgement against those who prosper by grinding down those they have at a disadvantage.  The image is of fat, strong sheep who not only bully the others and take all the best for themselves but also damage the pasture and water that the others need.  You can think of plenty of examples of that sort of behaviour by humans in the modern world – sadly, even here in wonderful Australia.  When we read of sheep fouling the water that others need, we might find a symbol of companies that damage or destroy water supplies by mining for coal or fracking for coal seam gas, or destroying valuable bushland for the sake of quick profits.  We might also think of our national government spying on Timor Leste negotiators in order to increase the billions of dollars in profit that Woodside Petroleum could make from exploiting oil deposits in the Timor Sea, and so take from the Timorese much of the income they needed to build a strong nation after escaping from colonialism.  Or we might think of the immoral behaviour of our current government as it takes revenge on those who uncovered that unprincipled cheating – witness K and his lawyer being hauled before courts in secret trials that we expect to see in dictatorships, not our democracy!
God our shepherd-king, have you really judged these fat bullies?  Are you really going to destroy them?  Does your kingdom really mean justice and peace for all humankind?  Christ our Saviour, when does your reign come to fruition for each person here on earth?
The Matthew gospel passage also puts the focus on how we treat each other, especially those in some sort of disadvantage.  Debie Thomas tells of a bronze sculpture "Homeless Jesus" inspired by the words "I was hungry … I was thirsty    I was a stranger    I was naked    I was sick    I was in prison."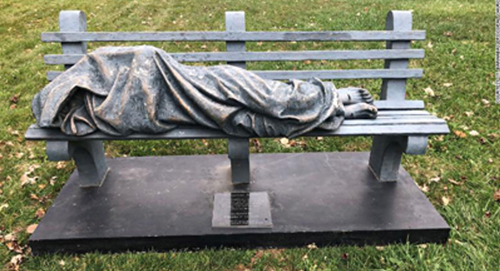 The sculpture is designed in such a way that Jesus is lying on a park bench, huddled beneath a blanket, his face and hands obscured.  Only the crucifixion wounds on his feet show us who this is.  A number of copies of the sculpture have been made and installed at various places around the world – you can see some photos of them in this script.
And so as we see this dramatic response to the words of today's gospel passage, this week let us pause to reflect on the meaning of Christ's reign over the Church, the world, and our lives; and let's ask again what kind of king is Jesus?  What does his rule look and feel like?  What does it mean to live and thrive under his kingship?
"Christ the King"  Sunday was added to the Western liturgical calendar as recently as 1925.  Pope Pius XI hoped that a world ravaged by World War I might find in Jesus's humble kingship a much-needed alternative to empire, nationalism, consumerism, and secularism.
As you perceive the world, has the Pope's vision been realized?  Empire has taken on new forms, often economic dominance; stronger nations put their own immediate increasing dominance and prosperity ahead of fairness, justice – a case in point is our own Prime Minister's insistence that we must not do anything to slow our economic growth even for the sake of reducing the dreadful impacts we now see climate change having onourselves and others.  Today the world is battling a devastating pandemic, yet there are many people who put their own "freedom" ahead of the health and safety of all – "I shouldn't have to wear a mask", "I'm safe from this virus so I shouldn't have to be restricted".  We see Jesus in our most vulnerable neighbors:  Isn't our sick king even now lying in thousands of hospital beds across the world, struggling to breathe?  … hungry, thirsty, and naked after months of Covid-induced unemployment?  Isn't Jesus even now languishing in a million prison cells, feeling utterly expendable as the coronavirus rips through our jails and prisons?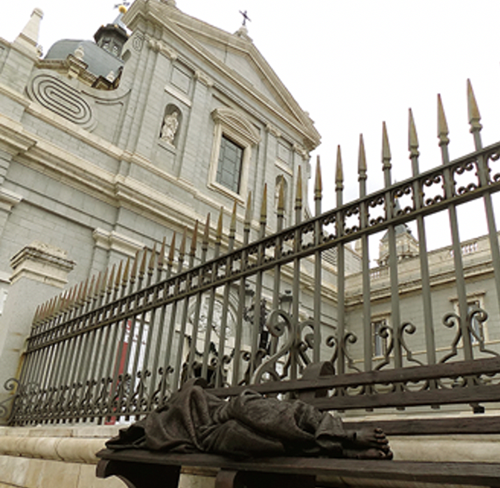 Even in the church, instead of embracing the countercultural possibility of a humble, wounded king, haven't we given ourselves over to a version of kingship that is all about domination, supremacy, triumphalism, and greatness?  We have fallen in love with the loud, the muscular, and the aggressive, and forgotten that the only power Jesus wielded on earth was the power to give himself away.  He's the king whose greatest displays of power included riding on a donkey, washing dirty feet, hanging on a cross, and frying fish on a beach for his unreliable friends.  How did we go from this God who empties himself of all privilege, — the God who perpetually pours himself out and surrenders his own life for his loved ones — to God s Iron Man?
Of course in our devotional and ecclesiastical lives we long to "see Jesus."  And rightly so.  We pray for an experience of Jesus's presence.  We yearn to feel him close.  We sing hymns, recite creeds, hear sermons, and attend Bible studies — all in the hope of seeing and knowing Jesus in a deeper and more meaningful way.
These are really worthwhile practices — unless they keep us at comfortable arm's length from where Jesus actually is.  Unless they lead us to believe that the work of justice and compassion is somehow secondary to the "real" business of Christianity.  The real business of Christianity is bending the knee to Jesus.  And where is Jesus?  Jesus is in the least and the lost and the broken and the wounded.  Jesus is in the un-pretty places.  In the bodies we don't discuss in polite company.  In the faces we don't smile at.  In the less attractive parts of town or city.
It's not that we earn our way to majestic King Jesus by caring for the vulnerable.  It is that majestic King Jesus, by his own choice and volition, has stooped and surrendered in such a way that he IS the vulnerable.  There's no other way to get to him.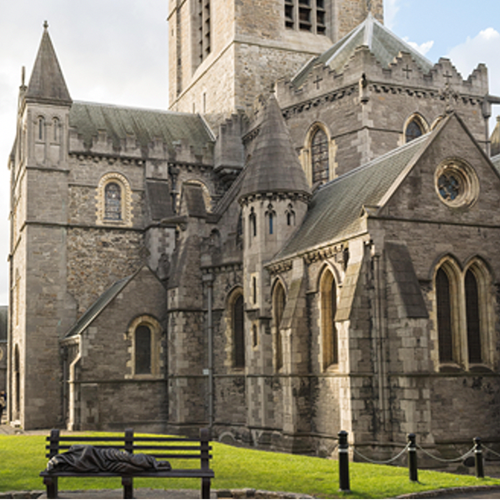 Is there something in us that turns away when Jesus offers us his whole self in such provocative, unbearable simplicity?  Perhaps we need to ask  "What am I afraid of?  My inadequacy?  My vulnerability?  My reputation?   One theologian defines mercy as "the willingness to enter into the chaos of others."  Is that what God calls us to, is that what we're afraid of?  Other people's chaos?  Maybe that's true for me.
It's okay to be afraid.  It's okay to have questions.  It's okay to see the huddled figure on the bench, and not know exactly what to do.  But at some point, our fears must come face to face with reality: "Whatever you did to one of the least of these who are members of my family, you did it to me."  There is simply no way around it if we take Jesus's kingship seriously.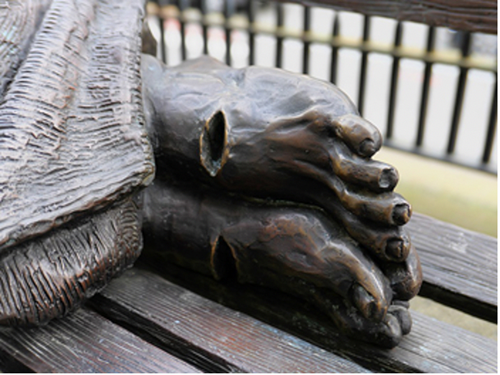 Let's notice that today's gospel passage, describing the final judgment of all humanity says nothing about belief.  Doesn't mention it.  Matthew 25 asks us to picture a heavenly throne room where all nations will be gathered before Christ, and Christ will separate his people as a shepherd separates sheep from goats.  What's the criterion he'll use for the separation?  Our confessions of faith?  our beliefs?  our doctrinal commitments?  our "personal relationships" with Jesus?  The criterion will be compassion, and compassion alone.
Are we surprised at that?  American Episcopal priest Fleming Rutledge writes "The Son who 'sits upon his glorious throne with all the nations gathered before him' is the same one who, at the very apex of his cosmic power, reveals that the universe turns upon a cup of water given to the littlest ones in his name."If we take that seriously, then it's a major challenge.
Soon, we will enter into Advent, a season of waiting, longing, and listening.  As we walk into the expectant darkness, waiting for the light to dawn, we may be ready for the first cries of a vulnerable baby to redefine kingship, authority, and power forever, to show that vulnerability as too powerful for death to defeat.  And on this Sunday, here and now, we are asked to see Jesus in places we'd rather not look.  We are asked to remember that every encounter we have with "the least of these" is an actual encounter with Jesus.  It's not a metaphor.  It's not wordplay.  It's not an idea we can just take or leave.  The person huddled beneath the blanket is our king.
RESPONDING TO THE WORD
Prayer response
(prayer in response to the sermon)
Hymn/Song:
Collection/Offering
We do not take up the offering today in person, but we dedicate our gifts of money, time and talents made both now and during the week to You with this prayer:
We have brought ourselves to this worship. We have brought our resources to this church. We have offered ourselves in supplication and praise. And we have offered our hearts and minds to greater compassion and understanding. Bless them all, we pray, and transform them into food, drink, welcome, clothing, and companionship for all in need. Amen
Prayers of the people
We know we cannot feed all who hunger – but help us, God, to offer some of what we have to those so much in need.
We know we cannot offer a drink to all who thirst – but help us, Holy Shepherd, to be grateful for the waters all around us.
We know we cannot befriend every stranger, but show us what it means to be a people of true hospitality and grace.
We know we cannot cure all illness or remove all pain, but help us to share words and expressions that can be felt as balms of your compassion.
We know, Gracious Saviour, that we cannot visit all who are imprisoned,
but help us to recognize and dismantle the prisons of our social and cultural orders –
to unlock the chains of racism, sexism, homophobia, economic injustice, and nationalistic pride that bind and disempower so many in our world.
And we know, Creating Wonder, that the crises of changing climates cannot be addressed
in entirety, but help us to live more gently and carefully on this beautiful planet.
We thank you for loving us into being, and we pray to be guided to share that love in return.
And for those who know power, authority, and who rule among us –
we pray your wisdom would descend upon them, your insight grow within them,
your tenderness flow into them, and your love inspire them.
And when we forget the eternal nature of your forgiving grace, send us messages of encouragement to remind us again that we are your children, beloved and blessed.
And help us to do the same for others, we pray, in Jesus'name. Amen.
Benediction Song:
Benediction
Beloved of God, go into the world and allow the joyful noises of creation to fill your hearts, so that you may be renewed for the journey of compassion and healing to which we are called as followers of Christ. Go in peace.
Amen.