Acknowledgement of Country
We acknowledge the Dharawal people the traditional custodians of this land
and pay our respects to Elders past and present.
 We acknowledge Lord that it is the beginning of National Reconciliation Week
and lift to you our indigenous brothers and sisters
We are sorry Lord for what has been a sad 250 years of memories for the First Peoples of this land
We pray for them as they continue to feel the effects  of wrongs that have never been righted.
Lighting of a candle
Eternal and near at hand. 
Already and not yet.
God's promise is the foundation of all life.
Holy Trinity, full of light and movement and mystery, 
lighten the darkness of our world,
move in our hearts,
draw us deeper into the mystery of your being. 
Father, Son and Holy Spirit.
Call to Worship
Here we gather
Each from our individual lives as we continue in our restricted lifestyle
We carry to our place of worship today the joys, the worries
and the uncertainty of our week and what the next week may hold
The weight of our personal experience
The anxieties of all that the future may hold especially as our world
continues to work through the battle with Covid 19
(Verse from Psalm 47)
Oh, clap your hands, all you peoples!
Shout to God with the voice of triumph!
2 For the Lord Most High is awesome;
He is a great King over all the earth.
5 God has gone up with a shout,
The Lord with the sound of a trumpet.
6 Sing praises to God, sing praises!
Sing praises to our King, sing praises!
7 For God is the King of all the earth;
Sing praises with understanding.
8 God reigns over the nations;
God sits on His holy throne.  (verses from Psalm 47)
Hymn
https://www.youtube.com/watch?v=ometKgLTrkg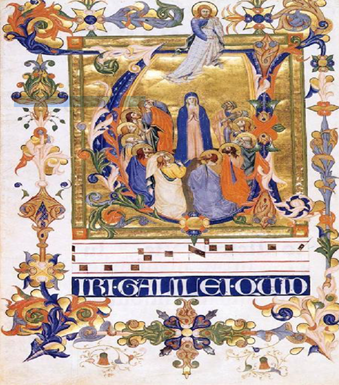 Lord, enthroned in heavenly splendour,
first begotten from the dead,
thou alone, our strong defender,
liftest up thy people's head.
Alleluia! Alleluia! Jesus, true and living bread!
Here our humblest homage pay we;
here in loving reverence bow;
here for faith's discernment pray we,
lest we fail to know thee now.
Alleluia! Alleluia! thou art here: we ask not how.
Paschal Lamb, thine offering finished
once for all when thou wast slain,
in its fullness undiminished
shall forevermore remain,
Alleluia! Alleluia! cleansing souls from every stain.
Life imparting heavenly manna,
stricken rock with streaming side,
heaven and earth with loud hosanna
worship thee, the Lamb who died.
Alleluia! Alleluia! risen, ascended, glorified!
Prayer of Confession
Seeing then that we have a great High Priest who has passed through the heavens, Jesus the Son of God, let us hold fast our confession.  For we do not have a High Priest who cannot sympathize with our weaknesses, but was in all points tempted as we are, yet without sin. 16 Let us therefore come boldly to the throne of grace, that we may obtain mercy and find grace to help in time of need.  (Hebrew 4: 14-16)
Lord, we come in prayer to you burdened with the stuff of life going on around us all for the deeds done under the sun that we would rather not remember,
the sound of sin in our world.
The cries of the hungry and the poverty stricken within our own communities.
Our own hurtful words hurled at those we love.
The echoing silence of creatures who we have driven to extinction.
The world suffering from misuse and neglect through our arrogance and greed
Hearer of all, you know too clearly the sorrows of our world!
Forgive us our sins, and help us right the wrongs we've done.
Give us words of repentance to share with those we've wronged,
give us courage to stand up for the voiceless people of this world
and a resounding love for the lowest and the least.
Most of all, tune our ears to the voice of Jesus,
so that always and everywhere we might hear
his song of peace for every creature under the sun.
Forgiveness and Assurance
Forgive us Lord when we want your time and attention to be just for us,
Forgive us, when we look for you in the heavens and refuse to see you on Earth,
Forgive us, when we block your glory by putting limits on your Love
Forgive us, when we do not glorify you by loving you in all that you have created.
But we acknowledge Lord,
Even when we cannot see, touch, feel or hear your divine presence among us,
we know that we belong to you,
You sent Jesus to walk with us long before the world was ready,
We know Lord that you forgive us even before we have sought your forgiveness,
By Grace we are loved, by grace we are forgiven,
Thanks be to God
Bible Readings
Luke 24: 44-53
44 Then He said to them, "These are the words which I spoke to you while I was still with you, that all things must be fulfilled which were written in the Law of Moses and the Prophets and the Psalms concerning Me." 45 And He opened their understanding, that they might comprehend the Scriptures.
46 Then He said to them, "Thus it is written, [l]and thus it was necessary for the Christ to suffer and to rise from the dead the third day, 47 and that repentance and remission of sins should be preached in His name to all nations, beginning at Jerusalem. 48 And you are witnesses of these things. 49 Behold, I send the Promise of My Father upon you; but tarry in the city [m]of Jerusalem until you are endued with power from on high."
50 And He led them out as far as Bethany, and He lifted up His hands and blessed them. 51 Now it came to pass, while He blessed them, that He was parted from them and carried up into heaven. 52 And they worshiped Him, and returned to Jerusalem with great joy, 53 and were continually in the temple [n]praising and blessing God. [o]Amen.
Acts 1: 1-11
The former account I made, O Theophilus, of all that Jesus began both to do and teach, 2 until the day in which [a]He was taken up, after He through the Holy Spirit had given commandments to the apostles whom He had chosen, 3 to whom He also presented Himself alive after His suffering by many [b]infallible proofs, being seen by them during forty days and speaking of the things pertaining to the kingdom of God.
4 And being assembled together with them, He commanded them not to depart from Jerusalem, but to wait for the Promise of the Father, "which," He said, "you have heard from Me; 5 for John truly baptized with water, but you shall be baptized with the Holy Spirit not many days from now." 6 Therefore, when they had come together, they asked Him, saying, "Lord, will You at this time restore the kingdom to Israel?" 7 And He said to them, "It is not for you to know times or seasons which the Father has put in His own authority. 8 But you shall receive power when the Holy Spirit has come upon you; and you shall be [c]witnesses to Me in Jerusalem, and in all Judea and Samaria, and to the end of the earth."
9 Now when He had spoken these things, while they watched, He was taken up, and a cloud received Him out of their sight. 10 And while they looked steadfastly toward heaven as He went up, behold, two men stood by them in white apparel, 11 who also said, "Men of Galilee, why do you stand gazing up into heaven? This same Jesus, who was taken up from you into heaven, will so come in like manner as you saw Him go into heaven."
Thank you Lord for these words of life
Reflection: The Ascension  Heather S
 Ascension Day has always had a place in my own church year, ever since the Church of England junior school I attended trooped to the old local parish church for a service in the morning, and then the afternoon, (always a Thursday of course), was a half day holiday. The custom seemed to highlight the importance of Christ's ascension.
I do wonder whether any alternative manner of the risen body of Jesus finally disappearing from earth would be so effective? How about sinking into a hole and swallowed up by the earth? How about disappearing in an instant puff of smoke? How about another heavenly chariot like Elijah? How about Jesus simply failing to appear ever again to the disciples?
Why were the disciples called to witness the final departing? Was it necessary for some upward motion?
Luke is the only Gospel writer to mention the ascension, (except that in the extension to Mark's gospel) and elaborates on the occasion in Acts, as he carries on the story. The disciples found themselves in the company of two men in white robes after the "Beam me up, Scotty" moment. Possibly the same two angels of the empty tomb. Just as then, these messengers gently nudge the disciples onto to the next stage of mission and understanding. Why do you stay looking up at the sky? Why do you stay staring at an empty tomb? This Jesus…..this Jesus wants us to move on, the next chapter is about to unfold. Await instructions. A new beginning, a different way of following, serving, understanding. An assurance that Jesus is still with them but in yet a different form. There is more to come in their exciting adventure.
Jesus instructed his followers to stay and wait in Jerusalem. They had already been clustering together for a considerable time since the resurrection, we presume. Not always in the city. Time to get themselves organised, time to talk things through, more time to wonder how long we are to wait indefinitely, and what on earth is going to happen next? Will we ever get back to our day jobs? It is not easy just waiting, indefinitely, and we have just had a taste of that experience. Will it be back to normal? When? We know for the disciples that it was not ever back to normal, - but that is jumping the gun to Pentecost. Are we ready to accept the commission to go out in ever increasing circles? To the ends of the earth? Well, at least to the end of our street whilst social distancing.  But ready for change? Not always the same old, same old. Can our mission adjust to changing times and circumstances, as a church and as individuals? As an Italian citizen remarked to a journalist earlier this month when their long and strict restrictions were being eased, "we are not returning to normal life, but to Life."
There are various references to Jesus seated at the right hand of his Father in heaven. In the New Testament  there is Stephen's vision before his stoning, then in  Romans, Ephesians and Colossians, seven mentions in Hebrews, 1 Peter and Revelation,  but the colourful ethereal picture that is conjured up with clouds, angels and the odd cherub and harp, may not be as helpful as the idea of job done, mission accomplished, and the close relationship, not just proximity, between Jesus and his Father. I like the picture by Salvador Dali, 'Christ of St. John of the Cross'. (click on the link and make full screen. It is quite dramatic)
When I visited Glasgow art gallery it hung at the end of a landing, or corridor, and the visitor was able to slowly approach and gradually be drawn in. The crucified Christ is seemingly ascending, but he looks down on the ordinary and commonplace. The fishing boat. The lake where so much happened and where he recently breakfasted on the shores. No angels or harps. He looks down into our ordinary everyday lives. We have expressions, to rise above hate, to rise above our station, to rise above our feelings…. In the painting Jesus is looking from another perspective, further away. If we can adopt a different perspective to see more of the big picture by looking at things from a distance, to understand there are wider consequences, things to consider, other people's points of view…Perhaps we can gain a more Godly perspective and understanding of the mundane and our worldly problems, and see more than the little bit of the world that revolves around us. Step back, rise above, do not be caught out by reflex emotions and weighed down by things that do not eternally matter. Ascend, rise above. Note the continual reminder of the cross and the suffering in the painting, but devoid of nails and blood. The resurrection has happened.
The men in white tell the disciples that this Jesus will come again in the same way as you saw him go into heaven. This has been commonly understood as a pointer to the Second Coming.  I am reminded of Charles Wesley's Advent hymn with which we shall conclude our service. "Lo he comes with clouds descending…" In the Bible the cloud is associated with God's glory, the shekhinah (a rabbinic term). The dwelling or the settling of the Divine presence of God. God's manifested glory. Remember the cloud settling on the Ark of the Covenant (Exodus 25 v 22), the Law giving on Mount Sinai (Exodus19 v 16), the Temple (1Kings 8 v 10,11), the Transfiguration (Matthew 17 v 5)…? I have no idea how or if the second coming of Jesus will happen. It is impossible to imagine, clouds or no clouds. Most people secretly think/hope it will happen after their lifetime - if it ever does. What bearing does a belief in the second coming, "to judge both the quick and the dead" have on how I live my life today? An alternative point of view is that the dwelling within us happened from Pentecost onwards, as the Holy Spirit dwells in each one of us. In this way Jesus comes again. He is the place where God's glory is revealed, the place where heaven and earth meet.
 O my Saviour, lifted
from the earth for me,
draw me, in thy mercy,
nearer unto thee.
Lift my earth-bound longings,
fix them, Lord, above;
draw me with the magnet
of thy mighty love.
Hymn
https://www.youtube.com/watch?v=LsVuApuurNs
1 Alleluia, sing to Jesus!
his the sceptre, his the throne:
Alleluia! his the triumph,
his the victory alone.
Hear the songs of holy Zion
thunder like a mighty flood:
'Jesus out of every nation
has redeemed us by his blood!'
2 Alleluia! not as orphans
are we left in sorrow now:
Alleluia! he is near us;
faith believes, but knows not how.
Though the cloud from sight received him
when the forty days were o'er,
shall our hearts forget his promise,
'I am with you evermore'?
3 Alleluia! bread of heaven,
here on earth our food, our stay:
Alleluia! here the sinful
come to you from day to day.
Intercessor, friend of sinners,
earth's redeemer, plead for me,
where the songs of all the sinless
sweep across the crystal sea.
4 Alleluia! King eternal,
you, the Lord of lords we own;
Alleluia! born of Mary,
earth your footstool, heaven your throne:
you, within the veil have entered,
robed in flesh, our great high priest;
yours the blood and yours the body,
in our eucharistic feast.
Prayers of the People
To see to hear to touch to feel
to reach out in love to touch to heal
but so often we are but still
not understanding what should be real
for strength for courage to be our fill
not weakness and impotence,  a bitter pill
be brave look out and care for others
this should be our mantra dear sisters and brothers
Lord, we come humbly before you
We have had many weeks to think to reflect, to experience what life is when we can't control it
We have come to have some understanding of what it would be like to live a life without freedom of choice
We pray for those who live without choice, who live in fear, abandonment, danger, poverty, with sickness and a seeming hopelessness,
Lord we pray that we can keep with us compassion, respect, empathy and gratitude
Lord help us not to develop social isolation amnesia and revert to excessive lifestyles, perceived wants over the needs of others,
May we continue to understand the importance of caring for our neighbours and neighbourhoods, tending our own gardens, enjoying nature in its purity not for what it can do for us
We acknowledge that our Earth has gone through a time of healing,  the air is fresher, the water cleaner, animals are walking down the streets of major cities, birds are singing and plant life is blooming,
If we have ever needed a clear indication of how our lifestyle has affected creation we have it before our eyes, living proof of how selfish living hurts your world,
We continue to pray for world leaders as they make decisions which affect their people, and as our leaders look to open up the world
We pray for those who maybe permanently affected by the Covid experience, a loved one has died, those who may never be able to feel comfortable about stepping outside their front doors, those who may never be able to re-open their business, those who may continue to fret about how they will pay bills we lift those people to you and pray for comfort for them in their time of hurt, bewilderment, anxiety and pain
We pray for churches that eventually will re-open their doors, perhaps this has been a time of spiritual refreshing and we can show a new face to the secular world one of continuing hope and strength through faith and actions
We bring to you people from our church family and community and  pray for those in our church family who have struggled with isolation, missing  family visits and the experience of worship in the church, we thank you for those who make telephone calls, write emails, drop in church worship notes and deliver meals, 
Lord we pray for Paul and Janene Bartlett as they juggle the care of Paul's parents and the care of Janene's mother
The Lord's Prayer
Our Father in heaven,
hallowed be your name,
your kingdom come,
your will be done,
on earth as in heaven.
Give us today our daily bread.
Forgive us our sins
as we forgive those who sin against us.
Lead us not into a time of trial,
but deliver us from evil.
For the kingdom, the power,
and the glory are yours
now and for ever.
Amen.
Closure of service
Jesus said,  'Go therefore and make disciples. I am with you always : to the end of time.'
O gracious and Holy Father,
Give us wisdom to perceive you,
diligence to seek you
patience to wait for you
eyes to behold you
a heart to meditate upon you
and a life to proclaim you
through the power of the spirit of Jesus Christ our Lord
Amen
Closing Hymn
The "Oh come quickly" is to be sung for Jesus's reign on earth now to widen, Your kingdom come on earth…, we are not sitting back and singing while we wait for the Second Coming, but getting on with our commission here and now.
https://www.youtube.com/watch?v=iPQ3iDPam3A
Lo! he comes with clouds descending,
Once for favoured sinners slain;
Thousand thousand saints attending
Swell the triumph of his train:
Alleluya! Alleluya! Alleluya!
God appears, on earth to reign.
Every eye shall now behold him
Robed in dreadful majesty;
Those who set at nought and sold him,
Pierced and nailed him to the tree,
Deeply wailing, Deeply wailing, Deeply wailing.
Shall the true Messiah see.
Yea, Amen! let all adore thee,
High on thine eternal throne;
Saviour, take the power and glory:
Claim the kingdom for thine own:
O come quickly! O come quickly! O come quickly!
Alleluya! Come, Lord, come!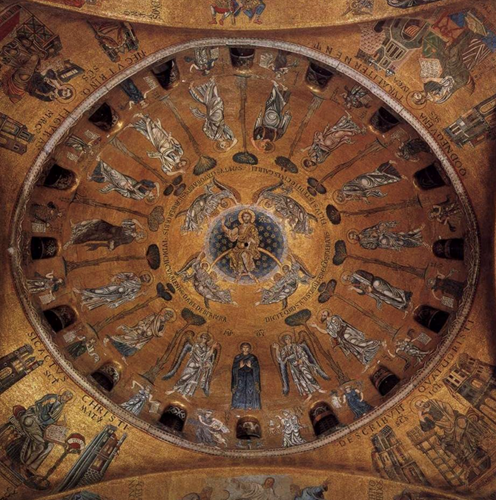 The Ascension Dome, Italian Mosaic Artist 1150-1200, San Marco, Venice