Advent 2 2020      Prepare the Way
The service has been compiled by Heather with the assistance of resources created by Rev Bruce Prewer and Rev Rex A. E. Hunt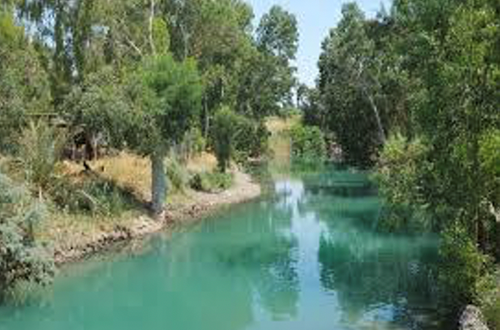 Acknowledgement of country
As we draw together here and on Zoom on this second Sunday in Advent, let us begin our service by acknowledging the Dharawal People and their stewardship of this land throughout the ages. We Acknowledge:
Our gratitude for this land we share today,
Our sorrow for the cost of that sharing,
Our hope that together in the spirit of Reconciliation,
we move to a place of justice and partnership,
As together we walk gently on this land.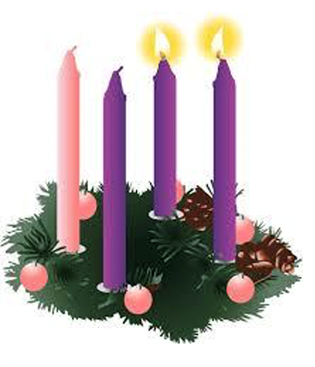 Lighting the Advent candle
We are reminding ourselves that light is returning to our world, but we also show that the darkness is good, too. The darkness is when we dream, and angels come proclaiming good news. The darkness is when magic happens, when ordinary people working the night shift in the fields behold a vision of angels, and unexpected babies are born. As we wait for the light in times of darkness, help us to look for the unexpected shafts of light and find comfort in your presence.
Injustice.
Darkness.
Illness.
Darkness.
Hopelessness and temptations.
Darkness.
Worry and anxiety.
Darkness.
Evil in many forms pervades our world.
Darkness disorients.
We light a candle and it sizzles and fades out.
The light of hope is often extinguished.
Sometimes it seems that darkness has the upper hand.
Light only lasts for a moment before hatred and hurt win.
Comfort your people O God!
We cry out to you!
Creating Spirit, point us toward your unfolding realm of light and love that flows steadily and persistently through the ages toward the time of wholeness. Reignite your image within us that we may manifest your shalom, justice, and extravagant love in each moment.
Restore and revive us during this hour. Use us beyond this time and place to be your hands in the world. Amen.
(Source: Tim Graves, Liturgy Bits, adapted)
Call to Worship
God of timeless grace,
you fill us with joyful expectation.
Make us ready for the message that prepares the way,
that with uprightness of heart and holy joy
we may eagerly await the kingdom of your Son, Jesus Christ,
who reigns with you and the Holy Spirit, now and for ever. Amen.
Hymn
Come thou long expected Jesus
https://www.youtube.com/watch?v=JEEd0uWnDGs
O.T. Reading
Isaiah 40 v 1-11
Comfort, comfort my people,
    says your God.
2 Speak tenderly to Jerusalem,
    and proclaim to her
that her hard service has been completed,
    that her sin has been paid for,
that she has received from the Lord's hand
    double for all her sins.
3 A voice of one calling:
"In the wilderness prepare
    the way for the Lord[a];
make straight in the desert
    a highway for our God.[b]
4 Every valley shall be raised up,
    every mountain and hill made low;
the rough ground shall become level,
    the rugged places a plain.
5 And the glory of the Lord will be revealed,
    and all people will see it together.
For the mouth of the Lord has spoken."
6 A voice says, "Cry out."
    And I said, "What shall I cry?"
"All people are like grass,
    and all their faithfulness is like the flowers of the field.
7 The grass withers and the flowers fall,
    because the breath of the Lord blows on them.
    Surely the people are grass.
8 The grass withers and the flowers fall,
    but the word of our God endures forever."
9 You who bring good news to Zion,
    go up on a high mountain.
You who bring good news to Jerusalem,[c]
    lift up your voice with a shout,
lift it up, do not be afraid;
    say to the towns of Judah,
    "Here is your God!"
10 See, the Sovereign Lord comes with power,
    and he rules with a mighty arm.
See, his reward is with him,
    and his recompense accompanies him.
11 He tends his flock like a shepherd:
    He gathers the lambs in his arms
and carries them close to his heart;
    he gently leads those that have young.
Confession
Almighty God, Light of the World, you caused light
to shine out of the darkness in the advent of Jesus our Christ;
you continually open to us the ways we are to prepare.
We confess our unwillingness to see the light and to walk in your ways.
We have not always opened our eyes to the needs of others,
and our feet have wandered from the paths of justice and peace.
We ask that the Spirit of Christ be born anew within us,
that our hearts may be stirred to glorify the nativity
with acts of compassion and service.  Amen
Forgiveness and Affirmation
I know you.  I created you.
I have loved you from your mother's womb.
You have fled—as you know—from my love,
but I love you nevertheless and not the less however far you flee.
It is I who sustains your very power of fleeing,
and I will never let you go.
I accept you as you are.
You are forgiven.
I know all your sufferings.  I have always known them.
Far beyond your understanding, when you suffer, I suffer.
I also know all the little tricks by which you try to hide the ugliness you have made of your life from yourself and others.
But you are beautiful.
You are more deeply beautiful within than you can see.
You are beautiful because you yourself, in the unique person that only you are,
reflect already something of the beauty of my holiness in a way which will never end.
You are beautiful also because I, and I alone, see the beauty you shall become.
Through the transforming power of my love which is made perfect in weakness,
you shall become perfectly beautiful.
You shall become perfectly beautiful in a uniquely irreplaceable way,
Which neither you nor I will work out alone,
for we shall work it out together.
From "Known" by the Reverend Dr. Charles K. Robinson, November 4, 1973 (Duke Divinity School Review, Winter 1979, Vol. 44, p.44). 
New Testament Reading
Mark 1: 1-11
The beginning of the good news about Jesus the Messiah,[a] the Son of God,[b] 2 as it is written in Isaiah the prophet:
"I will send my messenger ahead of you,
    who will prepare your way"[c]—
3 "a voice of one calling in the wilderness,
'Prepare the way for the Lord,
    make straight paths for him.'"[d]
4 And so John the Baptist appeared in the wilderness, preaching a baptism of repentance for the forgiveness of sins.5 The whole Judean countryside and all the people of Jerusalem went out to him. Confessing their sins, they were baptized by him in the Jordan River. 6 John wore clothing made of camel's hair, with a leather belt around his waist,and he ate locusts and wild honey. 7 And this was his message: "After me comes the one more powerful than I, the straps of whose sandals I am not worthy to stoop down and untie. 8 I baptize you with[e] water, but he will baptize you with[f] the Holy Spirit."
The Baptism and Testing of Jesus
9 At that time Jesus came from Nazareth in Galilee and was baptized by John in the Jordan. 10 Just as Jesus was coming up out of the water, he saw heaven being torn open and the Spirit descending on him like a dove. 11 And a voice came from heaven: "You are my Son, whom I love; with you I am well pleased."
Hymn
On Jordan's bank the Baptist's cry
https://www.youtube.com/watch?v=zq0f0Qo6A24 
Reflection
When I was 15 I began scripture 'O' level at school – an optional course. Some friends thought I signed up for it because my father was a clergyman. There were about 5 or 7 of us in this girls school, with one of the first male teachers in the school, - a Mr Twilley. Poor man, he didn't stand much of a chance, and always sought refuge in my father's company at any parent function. But he did open my eyes to what you can gain from looking analytically at scripture, and one of the first things I remember from those days was the quote in Mark's gospel from Isaiah. "the voice of one crying out in the wilderness Prepare the way of the Lord." Now, where is the comma?
In Isaiah the way of the Lord is in the wilderness, "A voice cries out : in the wilderness prepare the Way of the Lord" in Mark the voice (of John the Baptist) is in the wilderness crying " Prepare ye etc". John's wild character appearing near the River Jordan from the desert – possible a member of the Essenes living in community. But my eyes were opened to how the NT writers, in this case Mark, could bend OT quotes and ideas and apply them to Jesus the Messiah. (I also remember being told to count the number of "immediately s" in these first few verses of Mark, which I will leave you to do if you lapse into boredom and happen to have a RSV translation handy.)
So traditionally at some stage during Advent we focus on John the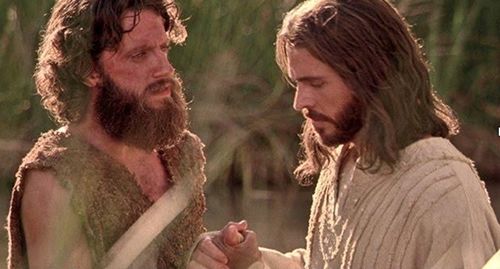 Baptist (also the son of a religious minister). Hardly surprising as John pointed people to shortly expect the arrival of Jesus, the long, long awaited Messiah. Looking forward expectantly. Just what the Advent season is all about. Anticipating each year the celebration of the miraculous incarnation, with a few traditions thrown in to jolly it up.
Baptism wasn't entirely unknown in those times. I don't think people would have gone to the river wondering whether John was trying to drown people, or even have to puzzle the symbolism of water. The Jews practised a type of baptism for any who wanted to convert to Judaism, and some forms of Judaism still do. Here is a wiki quote
"Although the term "baptism" is not today used to describe the Jewish rituals (in contrast to New Testament times, when the Greek word baptismos did indicate Jewish ablutions or rites of purification), the purification rites (or mikvah—ritual immersion) in Jewish law and tradition are similar to baptism, and the two have been linked. In the Hebrew Bible and other Jewish texts, immersion in water for ritual purification was established for restoration to a condition of "ritual purity" in specific circumstances. For example, Jews who (according to the Law of Moses) became ritually defiled by contact with a corpse had to use the mikvah before being allowed to participate in the Temple in Jerusalem Immersion in the mikvah represents a change in status in regards to purification, restoration, and qualification for full religious participation in the life of the community, ensuring that the cleansed person will not impose uncleanness on property or its owners." https://en.wikipedia.org/wiki/Baptism_in_early_Christianity
The deliverance of Noah and his family in the ark is regarded in 1 Peter 3: 20-21 as a forerunner to baptism and a reference to future salvation.
"to those who were disobedient long ago when God waited patiently in the days of Noah while the ark was being built. In it only a few people, eight in all, were saved through water, 21 and this water symbolizes baptism that now saves you also—not the removal of dirt from the body but the pledge of a clear conscience toward God"
In Christian tradition, the Israelites' passage through the Red Sea–their deliverance from Egyptian captivity–is also understood as a reference to the deliverance that occurs through baptism with water. The church has traditions of baptisms around Passover just before or on Easter Sunday.
The Mosaic Law strictly distinguishes between "clean" and "unclean". Water is one of the means used to bring about ritual purity. Persons who were unclean in a religious sense had to subject to a bath of purification (Leviticus 13-15).
Likewise, the situation of the Aramaic commander Naaman can be related to baptism: at the instruction of the prophet Elisha, the leper washed himself by dipping his body seven times into the Jordan, and the disease abated (2 Kings 5: 1-14).
I do wonder that no mention is made of Jesus himself baptising people with water, yet Matthew's gospel ends with the great Commission: (Matt 28:18 – 20)
18 Then Jesus came to them and said, "All authority in heaven and on earth has been given to me. 19 Therefore go and make disciples of all nations, baptizing them in the name of the Father and of the Son and of the Holy Spirit, 20 and teaching them to obey everything I have commanded you. And surely I am with you always, to the very end of the age."
Does that imply water baptism? I do not know. Or is it implying a contrast to water baptism?
John the Baptist has been waiting, is pointing forward and anticipating, but bear in mind that Mark's readers would have known how this story ended for John. In Mark 1:14, Mark implies that it was John's arrest that was the tipping point for Jesus to begin preaching in Galilee.
John's message sounds like brimstone and fire, but really was one of hope for the ordinary people.
What we do know is that when he became public, his mission to call his people back to faith was a sensation. The greatest sensation of his age, as he preached down there in the wildness, close to the Jordan River.
It had been hundreds of years since the Jews had been given an outstanding prophet. It was a part of their belief that near the end of the old era, before God sent his Messiah to usher in the new age, they would be given a prophet like Elijah.  And John was seen as that prophet. A powerful figure preparing the way of the salvation of the Messiah.  From every direction the crowds made their pilgrimage through inhospitable territory to hear John the baptiser say: "repent, and be baptized."
It may not sound like it to you, but John's message was one of hope and joy. We often neglect this aspect of John's preaching. Far too many people think of John as a harsh figure, a prophet of doom and gloom, demanding painful repentance and warning of dire consequences if they failed to repent.
That is only partly true. John was indeed a tough, fiery character. It is true that his warnings were stern. But the much larger truth is that John was proclaiming that something wonderful was about to happen.  He clearly saw himself as the herald of God, preparing the way for the promised Messiah. Great joy was going to break out. Hopes were going to be fulfilled. He called on people to get themselves ready for massive joy.
He asked the people to repent. Again. we tend to think of repentance as a negative thing, of giving up pleasures. The aspect we forget is that repentance is an act of hope. Repentance is not merely feeling sorry and giving things up. It is a complete turn around in one's life. It is turning from something disastrous to something wonderful. I do not know if any of you have watched the SBS documentary on addiction recently. Any addict longs for that turn around, to escape the clutches and consequences. Many see little hope for their future. Nor are they at peace with themselves.
So we emphasise this: repentance is turning to something far better.  
For John, it is turning away from the insidious lies, false values, deceits, injustices, bondages and hopelessness of the old era, towards the beauty, justice, truth and peace of the new age which was about to dawn.  What they were turning to, gloriously exceeded even the very best among the things they were turning from. C.S. Lewis likened it to leaving the Shadowlands.
For John the baptiser, the old era was doomed, and rightly so. It was decaying and destined for the scrap heap. God was in charge and therefore a new age was close at hand. Repentance is a message of radical hope and joy.
And as we hear this today, we want this oh so much. Not only for ourselves personally, but so much for our country and the world. The governments and policies which so much require continual change and renewal. A new way of looking at the common good, the future of the planet rather than as far as the next election.
And I reckon the people that heard John preaching, the poor, the powerless ones, those on the edges of society - hear something in his message which we might call 'hope'.
For theirs was a situation that needed a word of 'hope'.
• Rural land was being taken over by the big 'out-of-town' farmers.
• Mounting debt, payable to both Roman officials and priestly aristocracy,
meant the crisis of debt and dispossession grew deeper.
• Farmer labourers were being forced onto the unemployment line.
• A new Roman taxation system was extracting nearly every last cent.
Life could be pretty bleak.  Often without hope.
John was not sure of the shape of this new world. It was enough for him that it was of God and from God. It would have new values, with a fair go for all the neglected and mistreated people who had no champion or saviour.
In repentance, they were not turning towards some stricter religiosity with burdensome restrictions, but to a radical life-style with wonderful opportunities for practical justice and love and peace.
John was positive and joyful about his better world that was to come with the Messiah. Of course, at this stage he appears to have no idea that the Messiah was in fact his own relative, Jesus from Nazareth.  It appears he was astounded when the identity of the Christ was revealed to him, and as Mary was so keen to visit Elizabeth in pregnancy, I can't help surmising that the cousins ( once removed, or second – not sure) grew up together with family holidays and visits.
There is a restlessness and a longing about Advent.
A restlessness that says: Be aware!  Be alert!
A restlessness is captured in the wild-looking John.
He comes out of the desert wilderness and starts to call people
to take a long, hard look at themselves.

Not the message we tend to see on our Christmas cards, is it?
But that's the political context of the first Christmas story.
And while both John and Jesus chose to follow different dreams,
both were seeking to transform their world,
and bring an end to war and violence, injustice and oppression.

To repeat, there is a restlessness and a longing about Advent.
A restlessness that says: Be aware!  Be alert!  Be open!
With these postures to the fore, the four traditional themes of Advent
- hope, peace, joy, and love -
can become concrete, can become real, in our lives.
May it continue to be so with us as we journey through this Advent season.
When Jesus emerged from his baptism, the voice from heaven affirmed "you are my son, the beloved: with you I am well pleased."
We are now going to experience an affirmation, I hope, ourselves. A reminder of our baptism.
You have a cup of water to hand. I invite you to dip in a finger, make the sign of the cross on your forehead and quietly say to yourself
"I am God's child. Well loved. God is pleased with me."
https://www.youtube.com/watch?v=l-bAXm-A3Ls
PRAYER
Advent Friend,
we want to be ready for you
but we are set in our bent and bumpy Ways.
.
Create in us
the capacity for repentance
and the vulnerable grace of openness.
Use our friends
and our critics to straighten
twisted motives and smooth rough moods.
Make us ready
for more and more
of your healing baptism in our lives.
Grant an increase
of your nurturing Spirit
in the ordinary affairs of each day.
For your love's sake.
Amen
Prayer Intercessory
God of hope,
As we joyfully await the glorious coming of Christ,
we pray to you for the needs of the church and the world.

Points for prayer:
The sick we know
The anxious and grieving
Those separated at this time
Tigray and refugees in eastern Sudan
Those who have lost their income through Covid
Project Youth
The homeless in our city
Our church community and our hopes for next year

Hear our humble prayer
that we may serve you in holiness and faith
and give voice to your presence among us
until the day of the coming of your Son, Jesus Christ,
who lives and reigns for ever and ever. Amen.
Sending out  
Get ready. Turn, turn, turn!
Turn your faces to the Coming One. 
Today is the day, this is the day of grace
Now is the time; this is the hour of opportunity.
Level the high ridges, fill up the canyons,
make a smooth path for the One who is coming, 
prepare a level highway for the Lord.
Mercy and faithfulness will embrace,
righteousness and peace shall kiss.
By grace, through faith, may we be blessed
            With the grace of our Lord Jesus Christ,
            with the love of God,
            and with the fellowship of the Holy Spirit.
Amen.
Hymn
Hark a herald voice is calling
https://www.youtube.com/watch?v=VCrEt11-SFU 
Reflection music