Acknowledgement of Country
This is God's land and God's spirit dwells here.
We acknowledge the Dharawal speaking people who are the traditional custodians of this land and pay our respects to Elders past and present and emerging.
Lighting of a candle
Eternal and near at hand. 
Already and not yet.
God's promise is the foundation of all life.
Holy Trinity, full of light and movement and mystery, 
lighten the darkness of our world,
move in our hearts, 
By your light of illumination and understanding, may we gain clarity and wonder,
and be drawn deeper into the mystery of your being. 
Father, Son and Holy Spirit.
Call to Worship
Eternal God,
you are the same yesterday, today and tomorrow,
and yet you come to us afresh each new day.
You breathe new life into what has grown tired and discouraged.
You offer healing for what is broken and worn. 
You restore hope for what seems impossible. 
You are the source of life and love for us and all your creatures,
And so we worship you as Creator, Christ and Holy Spirit, 
one God, now and always. Amen.
Bible Reading: Featured video clip here.
We are going to watch a six minute video rather than read our Old testament reading. We know it as the story of Moses in the Bulrushes.  The clip is the opening of The Prince of Egypt, the animation by DreamWorks. (You may be inspired to watch the rest, - and it may remind you of the opening of Les Mis.) God's deliverance from oppression. Look out for the jealousy of little Rameses, suddenly not the centre of his mother's attention. He and Moses grew up as playmates together, educated together, speaking the same language. Of course, it was later that Moses reappeared on the scene to persuade his old playmate to "let his people go"
Now let us read Isaiah 51 v 1-16. It was written during the exile. Look out for the themes of oppression and rescue.  And a theme to be picked up later, the rock. There is much picture language in this passage.
"Listen to me, you who pursue righteousness
    and who seek the Lord:
Look to the rock from which you were cut
    and to the quarry from which you were hewn;
2 look to Abraham, your father,
    and to Sarah, who gave you birth.
When I called him he was only one man,
    and I blessed him and made him many.
3 The Lord will surely comfort Zion
    and will look with compassion on all her ruins;
he will make her deserts like Eden,
    her wastelands like the garden of the Lord.
Joy and gladness will be found in her,
    thanksgiving and the sound of singing.
4 "Listen to me, my people;
    hear me, my nation:
Instruction will go out from me;
    my justice will become a light to the nations.
5 My righteousness draws near speedily,
    my salvation is on the way,
    and my arm will bring justice to the nations.
The islands will look to me
    and wait in hope for my arm.
6 Lift up your eyes to the heavens,
    look at the earth beneath;
the heavens will vanish like smoke,
    the earth will wear out like a garment
    and its inhabitants die like flies.
But my salvation will last forever,
    my righteousness will never fail.
7 "Hear me, you who know what is right,
    you people who have taken my instruction to heart:
Do not fear the reproach of mere mortals
    or be terrified by their insults.

10 Was it not you who dried up the sea,
    the waters of the great deep,
who made a road in the depths of the sea
    so that the redeemed might cross over?
11 Those the Lord has rescued will return.
    They will enter Zion with singing;
    everlasting joy will crown their heads.
Gladness and joy will overtake them,
    and sorrow and sighing will flee away.
12 "I, even I, am he who comforts you.
    Who are you that you fear mere mortals,
    human beings who are but grass,
13 that you forget the Lord your Maker,
    who stretches out the heavens
    and who lays the foundations of the earth,
that you live in constant terror every day
    because of the wrath of the oppressor,
    who is bent on destruction?
For where is the wrath of the oppressor?
14     The cowering prisoners will soon be set free;
they will not die in their dungeon,
    nor will they lack bread.
15 For I am the Lord your God,
    who stirs up the sea so that its waves roar—
    the Lord Almighty is his name.
16 I have put my words in your mouth
    and covered you with the shadow of my hand—
I who set the heavens in place,
    who laid the foundations of the earth,
    and who say to Zion, 'You are my people.'"
Let us sing the familiar chorus embedded in that passage, in verse 11, "Therefore the redeemed of the Lord will return"
Prayers of Confession  
Dear Father God, 
How patient you must be with our individual, and our community, failings. We are on a journey, and we all change in our perception of what is Your will and what is not, as we mature and rethink ideas. Often, we do not even realise how far short we are of furthering your kingdom here on earth. Thank you for our fellowship where we can discuss and share in a safe place. May we constantly assess our beliefs and work out how best to serve our community, families and friends. Forgive us the many times when we are slow to understand, or impetuous in our talk or actions. May we humbly ask you to hold us safe, and give us new opportunities each day to grow in knowledge and faith.  Thank you for the joy we experience when we glimpse your Glory and your Love in the world around us.
Merciful God, we confess that we have strayed from your purposes.
You set a path for us to follow, but we conform to the ways of this world.
You offer us your transforming love, but we cling to familiar patterns and habits.
We are even blind to oppression when it suits us to pass by on the other side.
You give each of us gifts to use for the work of your kingdom, 
but we wait for others to do what needs doing.
Forgive us for taking the easy way out and failing to serve you with eager hearts.
Assurance and Forgiveness.
Merciful Lord,
grant to your faithful people pardon and peace,
that we may be free of guilt and all that oppresses us and weighs us down.
May we serve you with a quiet mind;
through Jesus Christ our Lord. Amen.
The New Testament reading is from Matthew chpt 16 v 13-20.
13 When Jesus came to the region of Caesarea Philippi, he asked his disciples, "Who do people say the Son of Man is?"
14 They replied, "Some say John the Baptist; others say Elijah; and still others, Jeremiah or one of the prophets."
15 "But what about you?" he asked. "Who do you say I am?"
16 Simon Peter answered, "You are the Messiah, the Son of the living God."
17 Jesus replied, "Blessed are you, Simon son of Jonah, for this was not revealed to you by flesh and blood, but by my Father in heaven. 18 And I tell you that you are Peter,[a] and on this rock I will build my church, and the gates of Hades[b] will not overcome it. 19 I will give you the keys of the kingdom of heaven; whatever you bind on earth will be[c] bound in heaven, and whatever you loose on earth will be[d] loosed in heaven." 20 Then he ordered his disciples not to tell anyone that he was the Messiah.
Reflection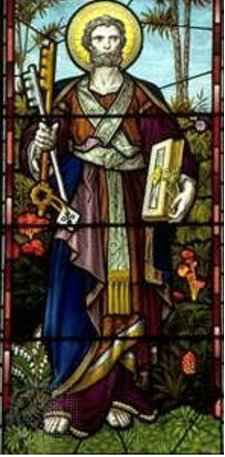 In a year of lockdowns, and locked up within our houses, or states, don't we wish for the keys to open the door? A vaccine please! The key to releasing us from this pandemic.
But let us look at this passage.
Caesarea Philippi is in the far north of Israel, in the area we now call the Golan Heights. Part of Syria seized and occupied by Israel in the recent past, and still strategically important for vantage, fresh spring water and fertile volcanic ground. The ancient Roman city is archaeologically significant now. Like many high beauty spots people felt close to God there, or a god. In earlier times it was named Paneas, and was the location the Cave of Pan in the big rock face, the place of the pagan Gate of Hades. In the midst of the stonework is a huge, yawning cave, like an enormous mouth. Back in Jesus's day, people believed this cave was the entrance to Hades—the underworld where people journeyed after they died. This was also the same place where the Greeks and Romans received revelations from the god Pan who was mentioned in classical writings as a "seer" or fortune teller and a giver of revelations. Pan means "all", the appearance of the young god Pan delighted all. Yes. Pandemic. Affects all.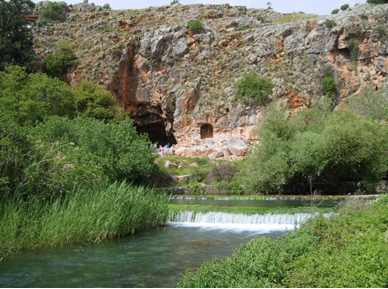 So Jesus asks the million dollar question. Perhaps not a quiz as much as he is asking them to give an account of what they have been saying about him, not to cough up what they think on the spot. They have been debating "Is he really the Messiah, the chosen one?" The one to release us from Roman oppression. (Or even the oppression of the scribes and pharisees and their rules and expectations?) Peter is convinced and makes his bold statement, perhaps on behalf of the other disciples - we do not know. He has his revelation. Yet it is not complete. Peter's understanding of Jesus as the suffering Messiah is not complete. Later he learns more. My own faith has changed over the years, my understanding of God and His will has altered. Aspects of faith and church doctrine that I believed years go have gone. Black and white has been replaced by grey - or rather a glorious multicoloured, a much more interesting Godhead. We are all on a journey. Peter was just beginning his. It is natural to question, doubt, find out more and develop understanding. Personally, my God has got a lot bigger. And more inclusive and compassionate.
Then we get the play on words. "You are Peter" Petros, a rock, like a boulder, "and on this rock" Petra, a bedrock, firm foundation, like that which they sat by at Caesarea Philippi. Complicated by the fact that Jesus would have spoken in Aramaic which is Cephas. And then, only five verses later in Matthew, Peter becomes the "stumbling block". His revelation was limited to his understanding at the time.
And the keys. It is a challenge to find a commentary that gives a decent explanation to these few verses, the key to understanding is somewhat lacking dare I suggest?! Peter has been portrayed outside those pearly gates ever since. Also, his symbol is the crossed keys to reference his death. 
The Romans perfected steel locks, with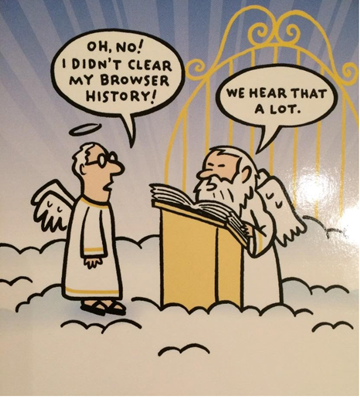 steel springs. The locks were often tiny masterpieces in terms of both precision and design. All Roman door locks can only be opened from one side. Now the "gates of Hades" may well be explained by the location of this exchange, the cave in the wall. I think Jesus may have been smiling and pointing. But I am not sure about the bound and loose. Over the centuries the church has seemed locked up. Not very accessible to those on the outside, and the keys held by the rich, the powerful and educated. Which side of the door of the kingdom can be opened? From the outside or the inside? Too often the Church, and churches, have given the impression of being locked from the inside, to keep people out.
I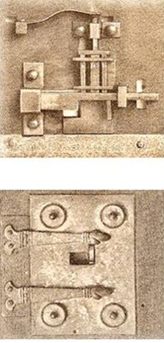 do not think doors and keys are helpful analogies here. We know that we are required to be out amongst community, serving where possible, demonstrating joy in life, certain of each person's worth and dignity, and helping people fulfill their potential. Looking for wa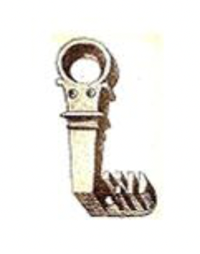 ys to open locked doors, freeing people from poverty and exclusion, oppression – both physical and mental, and supporting agencies who carry out this commission daily. Pointing to the non-violent Messiah who frees people from injustice, identifies with those suffering and who was inclusive of all in his own ministry, - especially those on the boundaries, locked out from mainstream society.  Let us pray that this week we will be certain of Jesus Christ as our Lord and Messiah, and draw on his Love and example to get through the tough times, and offer hope to those around us. I remember the analogy Lindsay Cullen brought to us, the blob with the fuzzy edges, the drinking hole where people come to drink then move further away. Some of us may feel locked out of church, but we are definitely not locked out of the kingdom.
Let us sing this hymn. The temple mentioned at the beginning of the second verse can be imagined as our church building, or ourselves, as temples of the Holy Spirit.
Christ is made the sure foundation 
Prayers of the people
We pray for all health workers, particularly those in Victoria. Give them strength and perseverance. We thank you for their skills and dedicated service. 
We pray for ourselves, our friends and family. The mental stress of Covid restrictions is taking its toll, all of us mourning that which we miss at this time. Help us be flexible, open to change, and gain a sense of perspective. May we ask for help when we need it, cultivate resilience but acknowledge all that we are missing and have lost. May we be kind to ourselves and each other.
We pray for those suffering from depression, mild or severe, affecting all ages. May there be friends and medical experts to restore their minds and give assurance and hope. We also are aware of those locked up in dangerous situations where domestic violence is prevalent. 
We ask your help for this church as we attempt to ascertain future direction in uncertain times. Unfold your purpose for us and provide us with the resources to serve the wider community. We ask your help; may we all be in tune with each other and your Holy Spirit.
God of Grace    Hear our Prayer
Offering prayer
O God, bless the offerings we make today, as well as the time, talent, and concern we will offer you this week. Keep our hearts free of worry so that we can give what we have freely, trusting your Spirit to accomplish more than we can ask or imagine in Christ's name. Amen.
Sending Out
Source of all wisdom and understanding,
in the midst of all our distractions, still our hearts and minds.
Amid competing voices, let us hear your word for our times.
By the gift of your Holy Spirit, help us discern your will and follow your path.
Send us out in the power of the Holy Spirit, 
To live and work 
To your praise and glory.
In the name of Jesus Christ, we pray, Amen.
Further Reflection
"Voldemort himself created his worst enemy, just as tyrants everywhere do! Have you any idea how much tyrants fear the people they oppress? All of them realize that, one day, amongst their many victims, there is sure to be one who rises against them and strikes back!"
― J.K. Rowling, Harry Potter and the Half-Blood Prince
"The ever more sophisticated weapons piling up in the arsenals of the wealthiest and the mightiest can kill the illiterate, the ill, the poor and the hungry, but they cannot kill ignorance, illness, poverty or hunger."
― Fidel Castro