LIGHTING OF THE CHRIST CANDLE
As I light this candle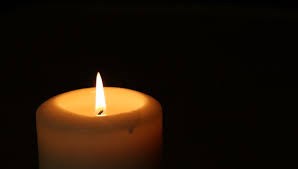 remind us Lord that You call us to live our lives in Your light, not in our own.
As I light this candle
kindle the flame of Your love in each one of our lives today.
ACKNOWLEDGMENT OF COUNTRY (UC National Assembly 2)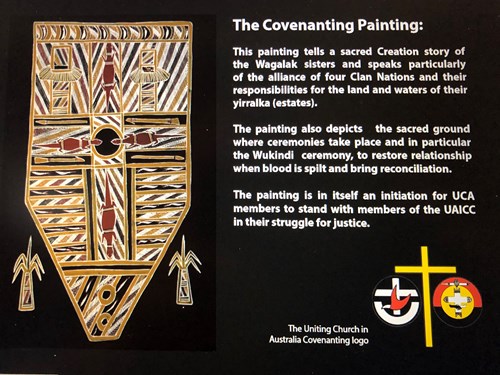 This land is God's land and God's Spirit dwells here. 
We acknowledge the Dharawal people, traditional custodians of this land under God. 
We commit ourselves again to working for reconciliation in this land and for her peoples.
CALL TO WORSHIP
Loving God, we come bringing all the ups and downs of our daily life. 
All our regrets and anxieties, all our joys and thanksgivings.
Meet us here, we pray.
Jesus Christ, we come desiring to know how we might more fully live your way.
Help us to always seek you in prayer, that you might be our hiding and renewing place. 
Open our minds to your word of Life, we pray.
Spirit of love, we come receptive to how you might work in us. 
Gracious love, embolden us, embrace us and restore us.
Gather us into yourself, set us free to be your people in the world. Amen
HYMN – TIS 664 (Modified) Tune O WALY WALY
Your love, O God has called us here
For all love finds its source in you
In the perfect love that casts out fear
The love that Christ makes ever new.
O gracious God, inspire our life
Reveal your will in all we do
Bless all who in your presence waits
That every day our love renewed.
WELCOME
You are all welcome, may Christ Jesus' name be always honoured.
May our time together be a safe place for all our doubts and fears, all our joys and thanksgivings.
Where the reality of life is acknowledged and where lives are renewed. 
We are welcome, because Christ welcomes each one of us, in unconditional love.
NT READING Romans 7: 19 – 25a For I do not do the good I want to do, but the evil I do not want to do—this I keep on doing. Now if I do what I do not want to do, it is no longer I who do it, but it is sin living in me that does it. So I find this law at work: Although I want to do good, evil is right there with me. For in my inner being I delight in God's law; but I see another law at work in me, waging war against the law of my mind and making me a prisoner of the law of sin at work within me. What a wretched man I am! Who will rescue me from this body that is subject to death? Thanks be to God, who delivers me through Jesus Christ our Lord!
PRAYER OF CONFESSION (Psalm 32: 1 – 7a)
Happy are those whose transgression is forgiven
whose sin is covered.
Happy are those to whom the Lord imputes no iniquity 
and in whose spirit there is no deceit.
While I kept silence, my body wasted away 
through my groaning all day long.
For day and night your hand was heavy upon me 
my strength was dried up as by the heat of summer. 
Then I acknowledged my sin to you 
and I did not hide my iniquity 
I said, "I will confess my transgressions to the Lord" 
and you forgave the guilt of my sin. 
Therefore let all who are faithful offer prayer to you in times of distress
the rush of mighty waters shall not reach them. You are a hiding place for me.
WORDS OF ASSURANCE
We are God's beloved people. God's desire for us is a life abundant, free from heavy burdens, buoyant and bolstered by grace. Be assured that you are forgiven. Thanks be to God. Amen
GOSPEL READING
Matthew 11:28 - 30 "Come to me, all you that are weary and are carrying heavy burdens, and I will give you rest. Take my yoke upon you, and learn from me; for I am gentle and humble in heart, and you will find rest for your souls. For my yoke is easy, and my burden is light."
In this is the Word of the Lord. Thanks be to God!
MESSAGE 'Joined together in life giving useful service'
Let us pray. Gracious, ever faithful Lord, speak to us afresh through these very familiar words of Scripture that they might live in each of our lives, transforming how we live in your world. Amen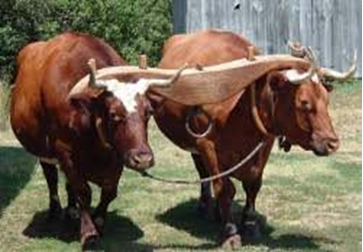 One of the images you have in this Order of Service, of two cattle joined together with a heavy yoke is perhaps the most common picture you might have in your mind of a yoke even after you've read Matt 11 vs 28 – 30. There isn't much within the picture that might attract you to the concept of wanting to be yoked together, however familiar you are with this passage of Scripture. 
Or it might be the image John & Sue referred to a couple of weeks ago, of some aboriginal men in the 1920's all yoked together with metal neck bands and heavy chains. Whatever the image you have in your mind, it doesn't seem to be the sort of one that Jesus would use as a word of life-giving liberation.
In Jesus' day, slavery was a widespread and accepted norm, indeed even up until the early 19th C business people in England said that the abolition of slavery would decimate the country's economy but thankfully people like Rev John Wesley and William Wilberforce persevered and it was made illegal.
The people of Jesus day saw first-hand the yoke of slavery and of servitude as Judea was forced to live under the yoke of the Roman Empire. The people of Jesus' day also lived under the burden of having to obey the 500+ rules that Jewish religious leaders decreed should be followed. If they weren't then these 'sinners' were shunned from social gatherings, with restricted access to the Temple in Jerusalem.
Jesus saw the burdens that daily weighed people down materially, economically, socially, religiously and morally. His first Teaching in the Synagogue in Nazareth in Galilee in Luke Ch 4, at the beginning of his ministry proclaimed that he had come in the words of the Prophet Isaiah 'to bring good news to the poor, to proclaim release to the captives, recovery of sight to the blind, to let the oppressed go free.'
Free also from the burdens we accumulate and carry around with us in our 'backpack of life'; always adding to it, rarely letting go of some of what is inside until that 'those many burdens of the past' ultimately defines who we are and not who we can be. These physical and emotional experiences of life can be of our own making or of another's or just a culmination of all that we have experienced in life.
The ones who are not 'gentle and humble in heart' to quote again from today's passage of Scripture still in our day decree/pronounce the burdens/demands/expectations or rules that other people must carry: 
the burden of having to prove you owed no tax under the Federal Government's now cancelled Robo-debt scheme; the burden of having to pay more for living in the wrong suburb when it comes to computer generated car insurance protection; the burden of having to live in immigration detention because you fled persecution; the burden of having to work as a casual with no guarantee to your employment and so on…what burdens do you see others or yourself living under?
And in this passage of Scripture Jesus also says 'learn from me'. He isn't just speaking at a distance or from the safety of a pulpit or a lectern, he invites all who would follow him to do what he does! 
To truly follow him and how he responds. So what can we learn from Jesus about burdens?
And that statement itself is revealing enough. Yes, if you read the Gospels, Jesus did carry burdens, he did face those who wanted him to be other than he was, he did grieve for those he loved, he was weighed down by the illness, disease and social divisions he encountered every day. 
His parables are full to overflowing with such stories!! 
What parables come to your mind where Jesus might be saying to us, learn from me? 
Let's just take a quick look at the first 11 chapters of Matthew: The Temptation of Jesus; The Beatitudes; Salt & Light; Concerning Anger, Adultery, Divorce, Oaths, Retaliation, Almsgiving, Prayer, Fasting, Treasures, Serving two masters and the lengthy passage on Do Not Worry, Judging Others and Self-Deception. Jesus' healing of the Paralytic and the Gadarene. More than enough 'burdens' there!
But perhaps most insightful of all. The Gospels contain the many instances in his 3 short years of ministry, where Jesus took himself off, alone, to be in prayer with his Father, to recharge his batteries, to let go of enough of the stuff that weighed him down to never lose sight of his calling and purpose, of who and whose he was. It was this constant renewing and refocusing that enabled Jesus to be 'gentle and humble in heart'. When was the last time you took such 'time out, to be truly still & refreshed'?
His sense of self-worth was never directly dependent upon his success or otherwise, upon his acceptance or otherwise by Jewish religious and political leaders or by those he particularly reached out to. In our results driven world where Key Performance Indicators (KPI's) often determine our worth, and our employability Jesus looks more deeply into our very souls for our true sense of identity and worth. No wonder his acceptance of others often through small practical actions like touch or just listening to the story another person brings, was life transforming and burden lifting for them.
And then in the Cross, one powerful image within that image is that by lifting high the cross upon his own shoulders, Jesus takes unto himself all that weighs us down, once and for all. That is perhaps the defining teaching moment we can learn from Jesus. What we are incapable of letting go of, he takes the burden off us. Hallelujah, hallelujah, hallelujah!
One final thought on this passage of Scripture. 
In English the key words YOKE, EASY, BURDEN & LIGHT can also mean in the Greek:
For Yoke - a 'coming together', a 'working together in service', 'that they may be one';
For Easy – 'gentle', 'kind', 'useful';
For Burden – a 'task' or 'service', not just a weight! And
For Light – 'life giving' or 'enriching'.
Then this passage of Scripture could read 'joined together in life giving useful service'
How might that re-phrasing be helpful to you in the living of your life individually and in community?
If after all that this Message has enabled you to reflect upon, if you have been able to acknowledge any burdens that weigh you down, this Celtic inspired Liturgy that I use in Funeral Services might be helpful:

Lord, set us free from all that binds, from our constant looking back and from our fears for tomorrow, from resentment, bitterness or anger, from anxiety & self-centred-ness & grant each one of us healing and wholeness. All our laughter, all our sadness; all our anger, all our gladness; all our stories, all our memories; those we remember, those we love, into the darkness and warmth of earth and fire:
N, WE LAY YOU DOWN (or whatever it is that needs to be handed over) & WE LET YOU GO
Into the sadness and smiles of our memories:
N, WE LAY YOU DOWN & WE LET YOU GO
Into the cycle of living & dying: 
N, WE LAY YOU DOWN & LET YOU GO
We love you, we will always miss you: 
GO GENTLY, GO SAFELY, REST IN PEACE. Amen.
HYMN – 'A Touching Place' Iona – John Bell
Christ's is the world in which we move;
Christ's are the folk we're summoned to love;
Christ's is the voice which calls us to care,
and Christ is the one who meets us here.
To the lost Christ shows his face,
            to the unloved he gives his embrace,
            to those who cry in pain or disgrace
            Christ makes, with his friends, a touching place.
Feel for the people we must avoid -
strange or bereaved or never employed.
Feel for the women and feel for the men
who fear that their living is all in vain.
            To the lost.............
Feel for the parents who've lost their child,
feel for the women whom men have defiled,
feel for the baby for whom there's no breast,
and feel for the weary who find no rest.
            To the lost..............
Feel for the lives by life confused, 
riddled with doubt, in loving abused;
feel for the lonely heart, conscious of sin,
which longs to be pure but fears to begin.
            To the lost.................
PRAYERS OF THE PEOPLE
Let us pray. We are not people of fear: though people of faith are sometimes targeted, along with their families, homes and places of worship in Australia and on every continent. We remember Jesus' words, 'do not be afraid' and though fear is strong, we believe love is stronger.
God in your grace, hear our prayer.
We are people of courage: in part because that is how we are made in Christ, we stand up for the poor and the powerless, we confront evil wherever it is found, we follow the example of Jesus.
God in your grace, hear our prayer.
We are not people who protect our own safety: we are those who lose their pre-occupation with self, or as the Scripture phrased it who 'die to self' so that others might also live. At this time of COVID-19 we are called by Christ in all our actions and decision making to also protect our neighbours' safety. 
It is in and through my neighbour, that Christ will see at work our love for Him and each other. 
God in your grace, hear our prayer.
We are not people of greed: everything we have comes from God: all our intellect, our gifts and skills, our financial and physical resources – what God has given is to be used as salt and leaven, for all.
For we at heart as the Fruit of the Holy Spirit decrees, are people of generosity. 
God in your grace, hear our prayer.
Let us now commit again, or for the first time, our lives as your people Lord, giving and loving, wherever we are, whatever it costs, for as long as it takes and wherever you call us; as we now name in our hearts and out loud those people and places this week that seek such a presence.
God in your grace, hear our prayer…shared at the end of each person's prayer. Amen.
OFFERING
On the first day of the week we are called to first set aside what we will give to Christ and His work.
What we have left can then be spent wisely as good stewards of all that God gives us. Amen
HOLY COMMUNION – FOR THE SCATTERED PEOPLE OF GOD
Today, we are again invited to receive HC via Zoom praying through the mystery of God's Holy Spirit who is with us always, that in the broken bread, it will be spiritual food for our lives. 
Friends, this is the table of the Lord and he calls us to this sacred feast. Come, not because you are strong, but because you are weak; come not because of any goodness of your own, but because you need mercy and help; come, because you love the Lord a little and would like to love him more; come, because he loves you and gave himself for you.
The Lord be with you
And also with you.
Lift up your hearts
We lift them to the Lord.
Let us give thanks to the Lord our God
It is right to give our thanks and praise.
We praise you, O God, that in your mercy you gave your only Son, Jesus Christ, that whoever believes in him should not perish but have eternal life. We give thanks for his humble birth, for his life and ministry of love, for his sufferings and death on the cross, for his glorious resurrection and ascension and for the promise that he will come again.
O God, by your Word and Spirit, bless and sanctify this bread that it may be for us the body of our Saviour Jesus Christ, and that he may ever live in us and we in him.
As the bread was broken, he gave it to each one and said "take, eat, this is my body".
Response: "It will be for us, spiritual food for our journey".
HYMN – TIS 465
Father in heaven, grant to your children
mercy and blessing, songs never-ceasing;
love to unite us, grace to redeem us -
Father in heaven, Father, our God.
Jesus, Redeemer, may we remember
your gracious passion, your resurrection:
Worship we bring you, praise we shall sing you -
Jesus, Redeemer, Jesus, our Lord.
Spirit descending, whose is the blessing:
strength for the weary, help for the needy;
make us your temple, born a new people -
Spirit descending, Spirit adored.
COMMISSIONING AND BENEDICTION
Go now into God's world, Christ's commission is urgent.
You must travel lightly, lest you be burdened or distracted.
You have Good News to share with all whom you meet.
Be of good courage, God's Spirit goes with you!
And the blessing of God, Father, Son and Holy Spirit live in you, always. Amen