Kathy says: As we come together over the internet, as you prepare your heart and mind for today's service let us begin with a song (click the link to view)
Acknowledgement of Country
As we gather today we acknowledge the Dharawal people, the traditional custodians of our lands. We acknowledge the wisdom of their Elders both past and present and pay respect to all Aboriginal and Torres Strait Islanders.  Today we remember and pray for our First Nations communities as they are especially vulnerable to COVID19 virus and pray that needed support and supplies will be available to all indigenous communities.
May we continue to think of, pray for and connect with First Nations people.
Kathy says: Welcome to our worship service today as we meet as one, together but apart. Our church building door may be closed but our hearts are open and we are more than a building. It has been wonderful to see emails of encouragement and to receive texts and calls this week as our church family creatively finds ways to nurture each other in faith and love and in practical ways. We look to Jesus and each other with hope during this tumultuous time.
I invite you to pray together:
 A Prayer for Uncertain Times
May those who are merely inconvenienced remember those whose lives are at stake
May those who have no risk factors remember those most vulnerable
May those who have the luxury of working from home remember those who must make the tough choice between preserving their health and making rent or mortgage payments
May those who have the flexibility to care for childen when childcare and schools are closed remember those who have no options
May those inconvenienced by having to cancel trips remember those who have no place to go
May those who are losing money in the the tumult of the ecomonics market remember those who have no money to lose
May those who settle in for a period of isolation at home remember those who have no home
In times of enforced togetherness, may those who enjoy a family of love and closeness remember those for whom family means violence and despair
As fear grips our country let us choose love
During this time when we physically cannot wrap our arms around each other let us find ways to be the loving embrace of God's love to our neighbour and our community
Loving and compassionate God,
You call us to love our neighbours and to be bearers of your hope and grace in our world.
Expand our hearts and vision to respond with compassion to those around us, who are struggling in this time of uncertainty, anxiety, grief and suffering.
Give wisdom and strength to our church leaders, health workers and government officials, as they provide leadership in bringing us through this time of uncertainty.
We pray for the doctors,
for the nurses, medical and hospital staff, for the technicians and the cleaners, the teachers, educators, support workers, aides and the caregivers, for emergency workers.
For the shop assistants, café workers, bus drivers, truck drivers and others in transport, for the researchers and investigators. For all who must leave the safety of home to go to work each day. For those making hard decisions in difficult times.
Thank you that we are able to worship together in a new way. Thank you that we can be together as church in a new way. Thank you that we can be Christ to each other even in isolation.
We pray for those who are sick,
and those who are grieving,
for all who are affected,
all around the world...
we pray
for safety,
for health,
for wholeness.
May we walk with those who feel they are alone,
and may we do all that we can to help each other.
Amen - May it be so.
Kathy says: In times of uncertainty our Hope is in Jesus. Let's continue our time together with the song Cornerstone
Bible Readings 
Ezekiel 37:1-14 (Good News Translation)
John 11:1-45 (Good News Translation)
Romans 8: 6-11 (New Revised Standard Version)
Hope in Unprecedented times – Loraine Holley
In Australia, we are now entering into week 3 of Covid-19 government restrictions of social distancing, self-isolation, lock-downs, bans on the gathering of large crowds, and non-essential travel to name a few. We are seeing panic buying, job losses in some areas and overstretched staff in others. Powerful global financial bodies and systems are being challenged by a small, invisible yet very potent organism: the coronavirus. The vulnerable are becoming more vulnerable. Families are being strained. We no longer have access to most of our familiar social gatherings and structures. Public spaces are strangely empty, shops are bare of people (except supermarkets), roads and streets have fewer cars.
Covid-19 is dramatically impacting all people, regardless of race, religion, wealth or country. It is dramatically impacting our social structures, our relationships, our economy, our way of life. Fear and uncertainty have replaced assurance and confidence. But we are told by our leaders we will get through this and we hope their words come true.
Let us pause now and each individually pray for the leaders (in Australia and worldwide), health workers and other essential service personnel and for our communities who are facing social isolation, financial strain and family pressures.
The Lectionary Bible Readings that I have chosen to focus on this 5th Sunday in Lent are from Ezekiel 37, John 11 and Romans 8.
The reading from Ezekiel 37: 1–14 is set against a backdrop of the destruction some years before, of the City of Jerusalem and its Temple by the Babylonians, and the isolation and exile of her people to Babylon. A sense of despair and hopelessness prevail. All that once was, is lost. Dead. There is no future.
Ezekiel is taken by the Spirit to a valley full of dried, old, scattered bones. Ezekiel is instructed to speak and the Spirit breathes life into the bones. The bones rattle and move, they come together, join in the correct places. Muscles, ligaments, blood vessels, organs, nerves, skin appear. Bones are transformed into bodies, a whole army working together.
A Netflix movie couldn't be more thrilling or graphic.
God then reveals the meaning of the vision to Ezekiel. 
Ezekiel, tell my people Israel:
while you are currently in Babylon;
while you are under the captivity of a powerful, foreign nation;
while your way of life, your social structures and customs, your religious activities, your very existence are under threat;
while you feel you have no hope;
while you look like you are old, dried out bones, scattered everywhere;
through my powerful Spirit, you will be a nation again. Israel, I will put my Spirit in you.
You will return to your land. Israel will live.
It took a few more years but by the time Cyrus the Persian had conquered the Babylonians in 539BCE, the Israelites were allowed to return home. In time a city and its Temple would be rebuilt and God's people would have a chance to put into practice the new things they had discovered while in captivity about themselves and about their God. As Jeremiah, a contemporary of Ezekiel put it in 31:33 'I will put my law within them, and I will write it on their hearts, and I will be their God and they will be my people'.
In the passage from John 11:1-45, we hear of another death, not of a nation sent into exile, but of Lazarus, the brother of Martha & Mary. Lazarus is extremely sick and his sisters send for Jesus.  Jesus receives the message but waits for 2 days before starting out to Bethany. On arrival, he finds the body has been in a tomb for 4 days and as Martha graphically says, "the body will stink". Definitely enough time for a body in a tomb to be truly dead, no chance for revival. The delay in Jesus' arrival snuffed out all hope in Mary and Martha.  With their protector brother dead, their situation is desperate and hopeless.
Jesus weeps. Does he weep because he sees the women's desperation? because his friend Lazarus is dead? Does he weep because of the drastic measures required to convince his disciples and others to believe in him? With clear echoes of the Ezekiel vision, John tells us that Jesus speaks in a loud voice. Lazarus walks out of the tomb with the burial bandages still around him. Lazarus' spirit returns.  That which once was truly dead, lives. Lazarus lives.
Turning our attention now to Romans 8: 6-11, we read a section of a letter written by Paul of Tarsus (a Greek city) to the Christians in Rome, at the heart of the Roman Empire. Paul a very zealous and educated Jew, is a Roman citizen and well versed in Greek philosophy and the art of rhetoric. Paul's miraculous, life changing encounter with the risen Jesus, who spoke to him on the Damascus Road, transformed his life. Gone is his focus on obedience to the Law, which cannot save.  It is replaced with a life of the Spirit which gives life because faith comes through righteousness. It is this power of God through the Spirit which raised Jesus from the dead, which gave Paul a new Spirit-filled life and which is God's gift through faith to all who believe, ie. that same Spirit which raised Christ is available to you because His Spirit now lives in you.
The very Spirit that brought a valley of dry bones back to life with a renewed sense of purpose and mission; the very Spirit that in Christ raised Lazarus from the dead; the very Spirit that encountered Saul of Tarsus on the Damascus Road, is the same Spirit of God which has been given by righteousness in faith to the small church of believers in Rome. Against this same Spirit, Empires fall and perish.
This same small church, like others in that 1st century, thrived and flourished often at times amidst great persecution and heartache. It is this same Spirit at work in our day as well.
While the current Covid-19 story unfolds around us, fear and hopelessness can make us immobile and feeble and wondering what the future might hold. Our leaders tell us we will get through this. But life will be different. Our society and the world will recover. The Church will recover.
But to what? Is God's Spirit asking us, challenging us, like Paul did to the Christians in Rome, to see our life and purpose in Christ differently, in these extreme times.
Now is a time to not just bunker down and 'ride out the storm' and then 'get back to normal'. We need to listen to the life-giving Spirit of Christ, to see what we, as a small Church in Engadine, need to be. What we have thought, in the past, is church, might be a thin, dull, poor caricature of more a rich, full and flourishing Church.
We can use this time of enforced change of our 'church' routines, in our isolation, social disruption and time to squarely face who we were, who we are and who we will be. We can be audacious and think of and invent new 'church' paradigms. We have the power and courage to be radically different and make changes. We have the strength to put into place new and fresh systems, now and in the future, that will bring abundant life. We have the life-giving Spirit of Christ in us to give us hope in these unprecedented times.
Kathy says: In response to Loraine's message let's join together to listen and sing: You Make Beautiful Things
Loraine has prepared two activities, found at the end of this service sheet as responses to her reflection on today's Bible readings (one creative, one reflective). I encourage you to spend some time today or across the week engaging with these activities and sitting with and responding to the message we have heard today. Loraine would very much like to receive your responses.
Prayer for others
Please pause and spend some time praying for each person and service type as you read through the prayer:
Gracious God,
We pause to pray for those who are working on the frontlines of this coronavirus struggle, offering essential services and care for others. We especially pray for our dear friends
Leanne and others working at Wayside Chapel supporting the homeless and distressed
Shane and nurses and medical staff working in hospitals and medical centres providing care
Denise and others working in pharmacies providing community care
Susan and others working as school chaplains supporting families
Brad and Linda and others working in the police force supporting the community
Heather and Kim and other teachers and school staff supporting children and families
Kellie and Sophie and all at our OOSH centres supporting families
Sandra and others working at the Engadine Caring Centre supporting our local community
David and others who work in retail settings keeping our shops open and stocked
Our friends at John Paul Village and Garrawarra and the staff as they care for the residents
Thank you for their vocational call to serve others. We pray that they will stay healthy. Help them to stay clear minded in the midst of panic and chaos and may they have compassion and love as Jesus did.  Give them strength and comfort as they need.
God, we trust that you are good and do good. May we be your faithful people in this time of global crisis. May your Holy Spirit inspire us to pray, to give, to love and to serve each other as we are able.
We pray together as Jesus taught us,
Our Father in heaven,
hallowed be your name.
Your Kingdom come,
your will be done,
on earth as in heaven
Give us today our daily bread.
Forgive us our sins,
as we forgive those who sin against us.
Lead us not into temptation,
but deliver us from evil.
For the kingdom,
the power and the glory are yours.
Now and for ever.
Amen.
Kathy says: Lets sing together of God's Amazing Grace
Amazing Grace – Chris Tomlin
MEDITATION
In recent times our country has been ravaged by bushfires. Many of us have travelled through fire affected areas and seen the devastation firsthand. But in the desolate blackened landscape, signs of new life emerge. What do these images say to you about Hope? Please Listen to Hope - Andy Salvanos as you look at these pictures. Feel free to write, draw, close your eyes whatever helps you as you reflect on the Hope we have in Jesus in these uncertain times.
Kathy says: I encourage you to continue your worship after the blessing song by continuing to scroll down to the two activities that Loraine has prepared, and to share your responses via the email link.
May we remember that the God we worship is never confined to a church building.
Travel with the God of Hope found in ordinary and surprising places.
Travel lightly, and for now, travel apart but together, learning and loving as we go.
Take heart.
We are disciples, Jesus weeps with us. When the way is uncertain,
shadows are sinister and dangers threaten, we will not be afraid.
For we are in God and God is in us and the Spirit will bring renewed life.
Amen – May it be so.
Blessing by Brooke Prentis – Let's read together
May our footsteps, on these ancient lands, 
remind us of creation and connectedness, in our search for truth.
May the Gum Tree, from its roots to its branches, 
remind us to dig deep and reach high, in our action for justice.
May the Eagle, who soars in the sky, 
remind us of the power, in our call for love.
May the expanse of the lands and seas, of the sky and stars, 
remind us of God's timing in our faith in hope.
May the Holy three, Creator Spirit, Lord God, Papa Jesus, 
remind us of community.
So with grace, mercy, and peace, go in truth, justice, love and hope.
Blessing Song to sing together – please click the link
The Steadfast Love of The Lord
Activity 1.
During your enforced isolation, you might want to use your artistic talents to colour, paint, mosaic, sculpt, decorate the following image of the dove representing the powerful Spirit of God. This dove is from the window in the front porch of the church building. If you send me a photo of your final product to engadineuconline@gmail.com, I will put it with other submissions in a collage on the website.
Note: If you are viewing this on a phone or tablet, take a screenshot of the dove then use the edit functions to add colour. Save and send!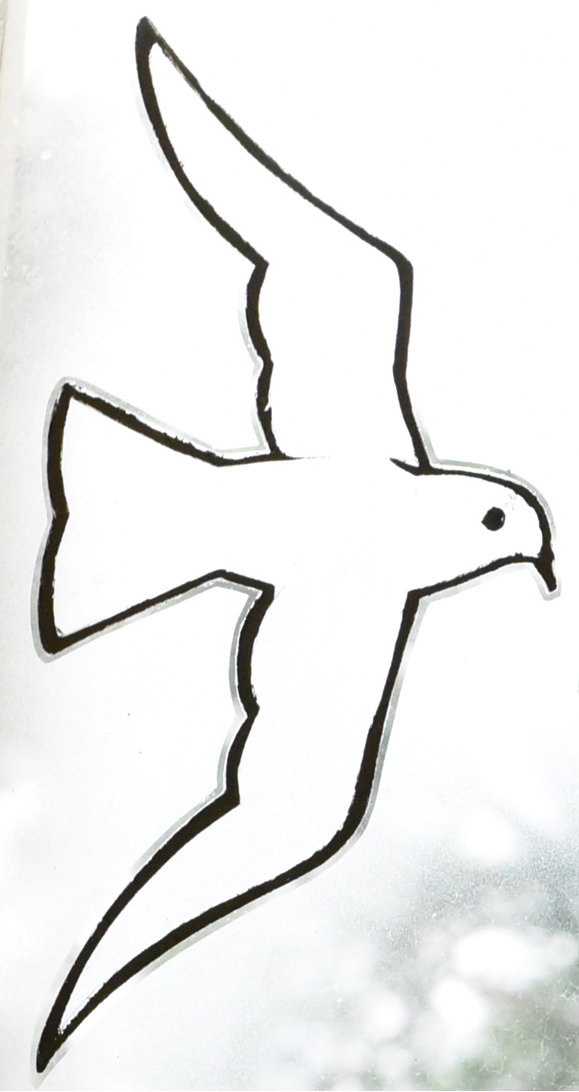 Activity 2.
In the light of today's sermon, consider the following reflection questions. Below is a link to a 46 minute TED Talk by Susan David that may assist with your reflection. Again, you are able to send your responses to me at engadineuconline@gmail.com and I will share the responses with the online congregation of our church.
TED Talk - How to be your best self in times of crisis
What is it about Church that has been is meaningful to you?
Why do you think of, now, when you hear the word 'Church'.
What characterises us now, as Engadine Uniting Church, in this time of isolation?
In this time of enforced isolation and social distancing, what things can you think of that can be done as 'Church'?
What do you hope for in the Church when we are no longer isolated?
Any other comment?