Acknowledgment of Country
From before recorded time,
the First Peoples cared for this Land.
We praise the Creator for the beauty of this Land
and honour those who have offered themselves
in tending it.

We acknowledge the Elders and communities
who have told the sacred stories
and nurtured faithfulness to the Creator.

We ask God's blessing on those who continue to work
for the healing and restoration of this Land
and Her Communities.

(C) 2017, A.Koh-Butler
Lighting the Christ Candle
Igniting Presence, your spark is here; your flame burns amidst us.
to be awake in awareness and care.
Help us to notice the flame of your passion for healing and wholeness everywhere.
Help us to turn our heads and be attentive to the lights of your constant compassion around us and among us.
Catch our eyes by the flickering of your grace that is in the goodness and mercy of communion and love.
And help us always to remember that you are with us. Amen.
Call to worship
Give praise to the Lord, proclaim his name;
    make known among the nations what he has done.
2 Sing to him, sing praise to him;
    tell of all his wonderful acts.
3 Glory in his holy name;
    let the hearts of those who seek the Lord rejoice.
4 Look to the Lord and his strength;
    seek his face always.
Prayer of confession
God, you call us to be the agents of intervention and change in a broken world.
But who are we, that you should do such a thing?
God, you ask us to speak up, to show up, and to lead.
But who are we, that you should do such a thing?
God, you nudge us forward into the arenas of participation rather than passivity.
But who are we, that you should do such a thing?
        We are your children, Loving God, yet we confess we are reluctant to hear your call.
        We confess, Holy Presence, that we turn away and resist your urging displays, even when the signs are all around us.
        We are fearful and would rather imagine ourselves to be powerless than enter the frays of conflict and oppression that exist all around us.
The great "I AM" is calling, showing us that WE ARE as well.
We do not know how TO BE all we called TO BE. Forgive us and show us the way, we pray.
        Amen.
Words of affirmation
 The great "I AM" is always with us, and makes all things possible through God's grace. People of God, let us not fear the signs of God's glistening presence. But rather, let us be affirmed and drawn in, ready to step forward and allow God to work through us. God is always with us. In this, let us be assured. Amen.
Bible Reading 1:   Exodus 3:1-15 (NRSV)
Moses was keeping the flock of his father-in-law Jethro, the priest of Midian; he led his flock beyond the wilderness, and came to Horeb, the mountain of God. 2 There the angel of the Lord appeared to him in a flame of fire out of a bush; he looked, and the bush was blazing, yet it was not consumed. 3 Then Moses said, "I must turn aside and look at this great sight, and see why the bush is not burned up." 4 When the Lord saw that he had turned aside to see, God called to him out of the bush, "Moses, Moses!" And he said, "Here I am." 5 Then he said, "Come no closer! Remove the sandals from your feet, for the place on which you are standing is holy ground." 6 He said further, "I am the God of your father, the God of Abraham, the God of Isaac, and the God of Jacob." And Moses hid his face, for he was afraid to look at God. 7 Then the Lord said, "I have observed the misery of my people who are in Egypt; I have heard their cry on account of their taskmasters. Indeed, I know their sufferings, 8 and I have come down to deliver them from the Egyptians, and to bring them up out of that land to a good and broad land, a land flowing with milk and honey, to the country of the Canaanites, the Hittites, the Amorites, the Perizzites, the Hivites, and the Jebusites. 9 The cry of the Israelites has now come to me; I have also seen how the Egyptians oppress them. 10 So come, I will send YOU to Pharaoh to bring my people, the Israelites, out of Egypt." 
11 But Moses said to God, "Who am I that I should go to Pharaoh, and bring the Israelites out of Egypt?" 12 He said, "I will be with you; and this shall be the sign for you that it is I who sent you: when you have brought the people out of Egypt, you shall worship God on this mountain." 13 But Moses said to God, "If I come to the Israelites and say to them, 'The God of your ancestors has sent me to you,' and they ask me, 'What is his name?' what shall I say to them?" 14 God said to Moses, "I am who I am." He said further, "Thus you shall say to the Israelites, 'I am has sent me to you.'" 15 God also said to Moses, "Thus you shall say to the Israelites, 'The Lord, the God of your ancestors, the God of Abraham, the God of Isaac, and the God of Jacob, has sent me to you'.
MESSAGE    Part 1 'You are standing on Holy ground'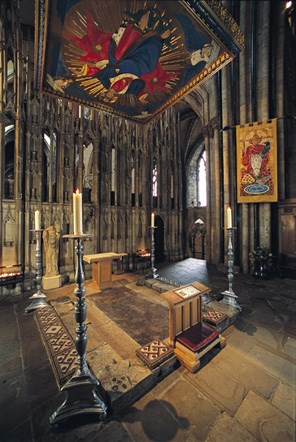 Some of you may remember one of my 'Breakfast food for Life' devotions earlier this year which mentioned the tomb of St Cuthbert (d 20 March 687 AD) in Durham Cathedral in the north of England.
You may also remember that on the 3 occasions my dad has visited the tomb behind the High Altar, that he wept openly, overcome he said by the holiness or sacredness of that particular space.
And like the formation of the New Testament, of what we call 'sacred Scripture' that took the early Church nearly 300 years to discern, underlying that process was and is the belief that some written works are more precious or sacred than others. That these particular texts bring us closer to the very presence & purpose of God in Christ and with that their ability to interact with and transform our lives.
To quote an Iona phrase 'the veil between Heaven and Earth is thin', where, as with the Scriptures, our ability to engage with God is clearer or more direct. Where our interactions are more profoundly life changing. Many of the great Saints of the Church experienced 'the sacred' far more frequently than us!
And this 'sacredness' or 'holy ground' where God's Name and claim upon our lives is honoured, is discovered in remarkably different ways, but ALL such encounters bring forth a 'Here am I send me' !!
For Moses, it was just plain old curiosity that caught his attention, a burning bush not consumed.
An encounter AS HE WAS GOING ABOUT HIS DAILY LIFE! He didn't need to travel on his knees to Mt Sinai or undertake a costly pilgrimage to the other side of the world. This encounter was available right where he lived and worked. An echo of God as Creator of all – our indigenous brothers & sisters too!
Where 'sacredness' is discovered in all human work and life – see Mother Teresa & St Francis of Assisi.
Within Christian Churches of the past, the Sanctuary, an echo too of the Holy of Holies in the Temple in Jerusalem, are reminders and pointers to the expectation of what 'happens' within a sanctuary: where the priest turned the bread & wine into the very body & blood of Christ!
Today, in Protestant churches, the Sanctuary has lost much of its potential to help us take off our shoes. We've taken away Rood screens, communion rails, and often too the 3 steps leading up into a sanctuary and allowed any member of the congregation to be in those spaces for Sunday worship. That celebration of the role of laity is itself a reminder that YOU are called & set apart for sacred work too!
Have you had such holy ground encounters? Were you overwhelmed by the experience and by the task the encounter 'required' you to do? By definition, if there was no life transforming action like with Moses "So come, I will send YOU to Pharaoh to bring my people, the Israelites, out of Egypt" then sadly it hasn't been that sort of encounter. These encounters COMPEL us to respond however hesitantly, however overwhelmed with the Lord's constant reassurance "I AM with you, always"
Let us Pray. In the words of St Teresa of Avila: (1515 – 1582)
Christ has no body now but yours. No hands, no feet on earth but yours.
Yours are the eyes through which he looks compassion on the world.
Yours are the feet with which he walks to do good.
Yours are the hands through which he blesses all the world.
Yours are the hands, yours are the feet, yours are the eyes, you are his body.
Christ has no body now on earth but yours. Amen
Bible Reading 2:  Matthew 16: 15 - 16, 21 – 25 (NRSV)
Now when Jesus came into the district of Caesarea Philippi, he asked his disciples, "Who do people say that the Son of Man is?" 14 And they said, "Some say John the Baptist, but others Elijah, and still others Jeremiah or one of the prophets." 15 He said to the disciples, "But who do you say that I am?" 16 Simon Peter answered, "You are the Messiah, the Son of the living God." 21 From that time on Jesus began to show his disciples that he must go to Jerusalem and undergo great suffering at the hands of the elders and chief priests and scribes, and be killed, and on the third day be raised. 22 And Peter took him aside and began to rebuke him, saying, "God forbid it, Lord! This must never happen to you." 23 But he turned and said to Peter, "Get behind me, Satan! (Tempter, Seducer) You are a stumbling block to me; for you are setting your mind not on divine things but on human things." 24 Then Jesus told his disciples, "If any want to become my followers, let them deny themselves and take up their cross and follow me. 25 For those who want to save their life will lose it, and those who lose their life for my sake will find it.
HYMN 'I, the Lord of sea and sky'
I, the Lord of sea and sky, I have heard my people cry.
All who dwell in dark and sin my hand will save.
I who made the starts of night, I will make their darkness bright.
Who will bear my light to them? Whom shall I send?
            Here I am, Lord; is it I Lord?
            I have heard you calling in the night
I will go, Lord, if you lead me.
I will hold your people in my heart.
I, the Lord of snow and rain, I have borne my people's pain
I have wept for love of them. They turn away.
I will break their hearts of stone, give them hearts for love alone.
I will speak my word to them. Whom shall I send?
            Chorus
I, the Lord of wind and flame, I will tend the poor and lame
I will set a feast for them. My hand will save.
Finest bread I will provide till their hearts are satisfied.
I will give my life to them. Whom shall I send?
            Chorus
Daniel L Schutte 1947 –
Words and music by permission Oregon Catholic Press
Message Part 2                               'Get behind me Satan'
St Peter, made the great leap of faith in declaring Jesus to be "the Messiah, the Son of the Living God". Now, having said that, you'd think he'd have put all the other pieces together too; and know just what that statement actually meant and entails.
But no, Peter puts his foot in it. Messiah for him is about power over others, about ruling and maybe even payback to the Romans and to the Scribes & Pharisees! It's about sitting on Jesus left or right.
It is definitely not about suffering, persecution, rejection and death on a cross!
No, my ways, God's ways, are NOT your ways, Simon, you're thinking about this the way the world operates, the way you've seen other leaders operate. Their power is not my power, Jesus is saying.
Or, you are looking at this through the eyes of Simon the fisherman, not through the eyes of Simon Cephas (Peter) the rock and disciple of Jesus! Though through great faith you have discovered who I am, your faith still has much to learn, it is STILL GROWING. It doesn't just land in your lap fully formed.
You will spend the rest of your life Simon seeking to understand what you have just said about me truly means. Faith, needs to be nurtured and fed, to grow. The faith that led me to candidate for ministry nearly 40 years ago is unrecognisable today, and I'm still learning and praying I'll never stop doing so.
So what does Jesus say?, Get behind me Tempter, Stumbling block, Seducer, get out of my sight, I'm going MY way, towards Jerusalem, not YOUR way.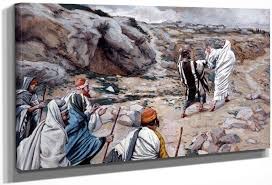 And then there is a marvellous insight in this heated, even anguished exchange, for surely Jesus is also just a little bit tempted to listen to 'the tempter'; and the clue to this insight is found in those three words GET BEHIND ME. What Jesus is asking Peter, to do, is not to get out of his sight, but literally to walk behind me, in MY footsteps, then you'll understand, learning as you go.
We see the same invitation and hoped for transformation in Peter's interaction with Jesus beside the Sea of Galilee in John 21, after the Resurrection where Jesus asks Peter 'do you love me?'.
Three times Jesus asks, 3 times Peter answers, but his answers always fall short.
Jesus then knowing that at that moment Peter is unable to be the person of faith Jesus needs in effect says, well, okay, you still don't get it, but what you have is enough to start, so 'feed my sheep'.
And in the context of today's Gospel, Jesus might also continue to say "Peter, as you walk in my footsteps, you will in time come to love me as Lord and Saviour, with an agape (Christ centred) love that will not only transform you but all whom you encounter. The love of Christ crucified and Risen". May it become so in your life and in mine too. Amen
HYMN 2 vs 1, 3 & 4 'O Jesus I have promised'
O Jesus I have promised
To serve you to the end
Lord, be for ever near me
My master and my friend:
I shall not fear the battle
If you are by my side
Nor wander from the pathway
If you will be my guide.
O let me hear you speaking
In accents clear and still
Above the storms of passion
The murmurs of self-will:
Lord, speak to reassure me
To chasten or control
O speak, and make me listen
True guardian of my soul.
Lord, let me see your footmarks
And in them plant my own;
That I may follow boldly
And in your strength alone;
O guide me, call me, draw me
Uphold me to the end;
And then in heaven receive me
My Saviour and my friend.
John Ernest Bode 1816 – 1874
Music by permission Oxford University Press
Prayers of the people
Let us pray.
To you, God of Christ Jesus, we bring our concern for our sisters and brothers in all the world.
To you who seek justice and mercy, we pray for all who are wronged and neglected, and for those to work and suffer to right wrongs, champion the oppressed, and rescue the lost.
            Merciful God, work through our prayers,
                        Just God, work through our deeds...
To you who foster health of body and mind, we pray for the diseased, badly injured, mentally ill or spiritually dying, and also for all your human agents of healing and comfort.
            Merciful God, work through our prayers,
                        Just God, work through our deeds...
To you who want the church to be at one in prayer and mission, we pray for the church in its divided and scattered condition, and also for those who work tirelessly for reconciliation.
            Merciful God, work through our prayers,
                        Just God, work through our deeds...
To you who seek the salvation of the world from evil and alienation, we pray for those without faith and hope, and for your servants who humbly and lovingly spread the Gospel of Jesus.
            Merciful God, work through our prayers,
                        Just God, work through our deeds...
To you who want each of us here to live with freedom and confidence, we pray for any among us who are feeling crushed by circumstances over which they seem to have no control, and we also pray for those of us who unobtrusively minister to each  other like angels of mercy.
            Merciful God, work through our prayers,
                        Just God, work through our deeds.
Most loving God, we pray with faith and with thanksgiving, knowing that you are already doing things far beyond our capacity to understand or imagine. Through Christ Jesus our Saviour.
Amen
Blessing
May God the Father
prepare your journey,
Jesus the Son
guide your footsteps,
The Spirit of Life
strengthen your body,
The Three in One
watch over you,
on every road
that you may follow.
As you leave this service, listen to this song 'Holy Now'
Song 3    Holy Now
When I was a boy, each week
On Sunday, we would go to church
And pay attention to the priest
As he would read the holy word
And consecrate the holy bread
And everyone would kneel and bow
Today the only difference is
Everything is holy now

Everything, everything
Everything is holy now

When I was in Sunday school
We would learn about the time
Moses split the sea in two
Jesus made the water wine
And I remember feeling sad
That miracles don't happen still
But now I can't keep track
'Cause everything's a miracle

Everything, Everything
Everything's a miracle

Wine from water is not so small
But an even better magic trick
Is that anything is here at all
So the challenging thing becomes
Not to look for miracles
But finding where there isn't one

When holy water was rare at best
It barely wet my fingertips
But now I have to hold my breath
Like I'm swimming in a sea of it
It used to be a world half there
Heaven's second rate hand-me-down
But I walk it with a reverent air
'Cause everything is holy now

Everything, everything
Everything is holy now

Read a questioning child's face
And say it's not a testament
That'd be very hard to say
See another new morning come
And say it's not a sacrament
I tell you that it can't be done

This morning, outside I stood
And saw a little red-winged bird
Shining like a burning bush
Singing like a scripture verse
It made me want to bow my head
I remember when church let out
How things have changed since then
Everything is holy now
It used to be a world half-there
Heaven's second rate hand-me-down
But I walk it with a reverent air
'Cause everything is holy now