Photo credit: Falls Creek Anglican: Road to Emmaus by Daniel Bonnell
Opening Prayer
(Based on the poem "Do it Anyway" generally attributed to Mother Teresa, based on the composition, "The Paradoxical Commandments," by Dr. Kent M. Keith.)
One: People are often unreasonable and self-centred. Forgive them anyway.
All: With God's love be a blessing.
One: If you are kind, people may accuse you of ulterior motives. Be kind anyway.
If you are honest, people may cheat you. Be honest anyway.
All: With God's love be a blessing.
One: If you find happiness, people may be jealous. Be happy anyway.
All: With God's love be a blessing.
One: The good you do today may be forgotten tomorrow.
All: With God's love be a blessing.
One: Do good. Give the world the best you have, and it may never be enough.
Give your best anyway.
All: With God's love be a blessing.
One: For you see, in the end, it is between you and God. It was never between you and them anyway.
All: With God's love be a blessing.
Invitation to Worship
In our daily walk of faith, countless blessings surround us. We need to take the time to recognize these blessings and realize God's presence is always with us and within us. The power to be a blessing is within us because God's love rests in our souls
Song: From the waiting comes the sign (Come, Holy Spirit, come) by Shirley Murray.
Aligning nicely with today's passage from Acts, this quiet haunting song takes us to a place of quiet expectation of God's presence.
Prayer of Confession
We pray:
God of blessings, we often do not recognize all the blessings you have given.
Sometimes, we fail to answer the call to be a blessing as you have called us to do.
Sometimes, we stop the blessings with ourselves not allowing them to flow through us.
In your love and strength, we have chosen to be a blessing to another.
Help us to complete the blessings task that you have chosen for each of us and to make a difference in the life of another, ourselves, our community, and the world.
Amen.
Words of affirmation
One: Alive to God's blessings, may we journey into life in new ways. May we take to heart the gift of God's presence, peace, and forgiveness. Receive it gladly.
Live it with passion and boldness. Christ is risen!
All: Christ is risen indeed! Alleluia!
Focus: Look at this painting by Velázquez "The Servant Girl at Emmaus"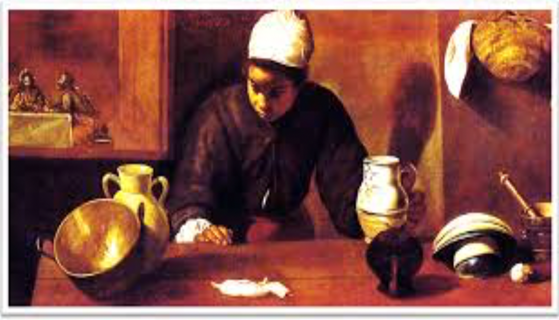 ...and read a poem of the same name by Denise Levertov (1923–1997). In what way does this add to the story of the Emmaus walk?
"She listens, listens, holding
her breath. Surely that voice
is his—the one
who had looked at her, once, across the crowd,
as no one ever had looked?
Had seen her? Had spoken as if to her?
Surely those hands were his,
taking the platter of bread from hers just now?
Hands he'd laid on the dying and made them well?
Surely that face—?
The man they'd crucified for sedition and blasphemy.
The man whose body disappeared from its tomb.
The man it was rumored now some women had seen this morning, alive?
Those who had brought this stranger home to their table
don't recognize yet with whom they sit.
But she in the kitchen, absently touching
           the winejug she's to take in,
a young Black servant intently listening,
swings round and sees
the light around him
and is sure."
Bible Readings for this week
Psalm 116:1–4, 12–19 is traditionally recited by the Jewish people after eating the Passover lamb. The movement is from being or feeling close to death to offering thanksgiving for life and witnessing to others about what God has done.
A paraphrase of the passage:
One: I love God, because my cries and pleadings have been heard.
All: Because God enfolded me in love and respect, I will remain open in heart until the end of my days.
One: The confines of death surrounded me; the deep chill of hell entombed me.
I knew what real anguish and pain was like.
All: So I cried out, "Save my life, O God, come to my side."
One: What, then, can I do to repay such kindness?
All: I will drink from the wells of compassion. In the presence of all I will express the gratitude of my soul.
Luke 24:13-25 The Emmaus Walk
As we read this passage, we are invited to reflect on times when we have felt the
presence of Christ. Where are the places where we especially feel Christ closest to us? Jesus makes himself known to the two travelers through the scriptures and in the breaking of the bread. Jesus invites us to know him, and we too encounter the risen Christ in these ways. We join all disciples in responding to Jesus' call to love deeply from the heart.
Acts 2:14a, 36–41 paints quite a picture. Peter and the other apostles are standing outside proclaiming and explaining to the gathered crowd about the crucified Jesus. Peter simply tells the story. The listeners' response is dramatic – recognizing the truth of what they have heard, they were "cut to the heart" and ask how they should respond. The passage speaks to all of us, just as God's love is for all of us, and the focus is on how we respond to the news of the gospel – what we do when we have heard it.
Those to whom the author of 1 Peter 1:17–23 writes have been born anew to life that lasts forever. As in the other readings for today, we see a movement towards life, this time through the death of Jesus. We can trust God because of the life of Jesus which gives us hope. This trust leads to our capacity for "genuine mutual love."
Sermon "But We Had Hoped" by Debie Thomas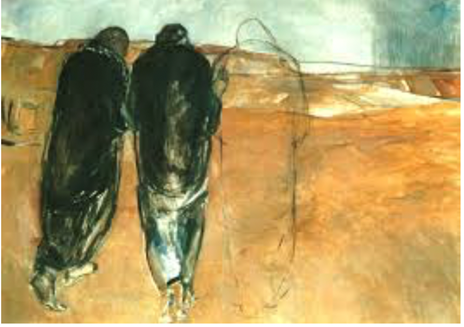 On this third Sunday of Easter, we find ourselves traveling a road that's uncomfortably familiar.  Every one of us, regardless of identity or circumstance, knows this road. We've walked it. We've lost our way on it. We've left it behind and then returned to it. The road is the road to Emmaus, and we recognize it by the words we speak when our feet hit its rough and winding way one more time: "But we had hoped." …
 Image Credit: Anglican Parish of Aspley-Albany Creek, Queensland
Offering Prayer:
God of Creation, God of Love—
You gave the wildflower soil to stand in, sunlight to grow in, and water to rest in. You have done the same for us, but so much more.
In gratitude for the countless gifts you have given us—for community and love, food and shelter, dreams and hope—we give back this small sign of our appreciation. The offering of finances, the offering of our service, of what we have purposed in our hearts, enable us to carry through.
Silence the sensible disciple in us who would think it a waste. Silence the Judas in us who would begrudge the money and the effort. Nothing is too good for you, Lord. Nobody is too bad for you to love. May we individually, and our church as a whole, be known for the extravagant love which makes us fools for Christ's sake.
Amen.
Prayers of the people
First, we read "Pandemic", by Lynn Unger, in a meditative way.
"What if you thought of it
as the Jews consider the Sabbath—
the most sacred of times?
Cease from travel.
Cease from buying and selling.
Give up, just for now,
on trying to make the world
different than it is.
Sing. Pray. Touch only those
to whom you commit your life.
Center down.
And when your body has become still,
reach out with your heart.
Know that we are connected
in ways that are terrifying and beautiful.
(You could hardly deny it now.)
Know that our lives
are in one another's hands.
(Surely, that has come clear.)
Do not reach out your hands.
Reach out your heart.
Reach out your words.
Reach out all the tendrils
of compassion that move, invisibly,
where we cannot touch.
Promise this world your love–
for better or for worse,
in sickness and in health,
so long as we all shall live"
Now we pray, taking at least thirty seconds of silence between each stanza for reflection.
Bread for all, bread in all, we pray, O God:  when we are orphaned, hungry, oppressed. (silence)
Faith for all, faith in all, we pray, O God: to recognize faith in other ways, other texts, and other worshipping communities. (silence)
Grace for all, grace in all, we pray, O God: when we are estranged, alienated, scorned. (silence)
Wisdom for all, wisdom in all, we pray, O God: when we are disabled, neglected, impoverished. (silence)
Spirit for all, Spirit in all, we pray, O God: for Earth, our children, and a shared, common future.
Amen
Closing Prayer
May you keep your hearts and eyes open for God's opportunities to be a blessing,
and making a difference in your small corner of the world.
Amen.
Closing Song: I usually try to put the 1970s to one side when it comes to choosing songs, but this week has been a particularly difficult one to find music that matches the theme AND is available on Youtube. I'm sure many of you will enjoy Pass it On!
Creative Activity #1
The practice of gratitude with thank you notes.
Think of one or two people who have walked alongside you on your journey of faith and made a difference to that journey, whether for a few hours or for a few years. If you have a postage stamp and envelope, write on a blank card or paper a short message to thank them - you may like to write how they helped you. Otherwise, send an email or make a phone call.
Creative activity #2
Collage of reflection and discernment
Do you have old magazines that should really be dumped in the recycling bin? Have you scissors and glue? Take them to a nice comfy spot and flick through the magazines. Cut out pictures and words or phrases that connect with the ways you have experienced the presence of God in your life. It could be through people, words, events.
Glue them onto some more paper. Are there any patterns that become clear when you look at the images and words you have chosen? Find one last picture or word to represent where you see God in your life or the life of your faith community today.