Acknowledgement of Country
This land is God's land and God's Spirit dwells here. We acknowledge the traditional custodians of the lands where we are worshipping today and how they have blessed this place through their care and concern.
We pay our respects to Elders past, present and emerging and acknowledge the stories, traditions and living culture of Aboriginal and Torres Strait Islander people.
We commit ourselves to working for reconciliation in this land and to building a better future together.
May we continue to think of, pray for and connect with our First Nations people.
The First Noel and What Child is This?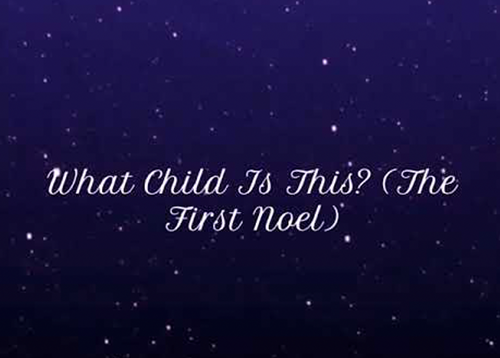 Francesca Battistelli - What Child Is This (The First Noel) (lyrics)
Lighting of the candle
God who made the heavens and the earth, as we light the candle today
We remember that there is no place where your light cannot reach,
There are no people beyond your care
God who is the Creator
Spirit, the Comforter.
You are the light of the world,
guiding our steps,
illuminating the truth and lightening the dark places in our lives.
May your light renew our hope and refresh our spirit.  AMEN
Song: Light of the World by Lauren Daigle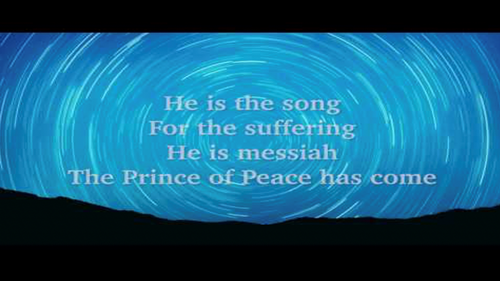 Light of the World - Lauren Daigle Lyrics - Advent 2016 Week 1: Hope
Welcome and Introduction
The simplistic view of the Messiah's coming is that Jesus was born and all would be made right in the world. But things took time. The long awaited one had arrived but still there was more waiting. More to be revealed at the right time.
2020, the calendar will be finished on Friday December 31st. The old year will pass and the new one will begin – but what will change really?
Today we will take some time to reflect on our story, the one that has led us to where we are today.
What is your story?
We each have travelled different roads to be where we are today and often we see things differently.
What is it that keeps us going? Sometimes our faith is strong but other times – it is really hard going. And yet...always or wanting to be hopeful.
Bible Reading
Galatians 4:4-7 (Good News Translation)
4 But when the right time finally came, God sent his own Son. He came as the son of a human mother and lived under the Jewish Law, 5 to redeem those who were under the Law, so that we might become God's children.
6 To show that you are his children, God sent the Spirit of his Son into our hearts, the Spirit who cries out, "Father, my Father." 7 So then, you are no longer a slave but a child. And since you are his child, God will give you all that he has for his children.
Prayer of Confession 
Psalm 139:7-12
Where can I go from your spirit?
Or where could I get away from your presence? 
If I climbed the heavens, you would be there;
if I made my bed in Sheol, you would be there. 
If I were to fly with the morning light
and settle at the farthest limits of the sunset, 
even there your hand would lead me,
and your right hand would take hold of me.
If I asked the darkness to cover me,
and the light around me to become night, 
even the darkness is not dark to you;
the night is as bright as the day,
for light and dark are just the same.
Forgive what we have been;
help us amend what we are;
shape what we shall be;
that we may delight in your will,
and walk in your ways;
in Jesus' name we pray. AMEN
Confession and Assurance
 If we have been so busy that we don't notice the needs of others,
or have resented those who do take time to be kind and generous,
or have disgraced our faith by becoming self-absorbed:
Forgive us, loving God, and save us from ourselves.
If we have been too proud to undertake humble tasks,
or too impatient to do tasks that have no immediate reward,
or too stubborn to seek the help of others.
Forgive us, loving God, and save us from ourselves.
If we have magnified small wrongs done to us,
or have allowed tiny difficulties to frustrate us,
or have been thick-skinned, inflexible or unteachable.
 Forgive us, loving God, and save us from ourselves.
The Lord has mercy.
Christ has mercy.
The Lord has mercy. AMEN
Forgiveness

God does not have to be persuaded to forgive us;
it is more likely our pride that holds us back from accepting forgiveness.
Please, let down your guard, open your mind and heart,
repent and accept the Gospel of free grace.
In Christ there is grace.
In Christ there is peace.
In Christ there is hope
In Christ there is love and joy.
Thanks be to God!
Bible Reading
Luke2: 22-40 (NIV Translation)
Jesus Presented in the Temple
22 When the time came for the purification rites required by the Law of Moses, Joseph and Mary took him to Jerusalem to present him to the Lord 23 (as it is written in the Law of the Lord, "Every firstborn male is to be consecrated to the Lord"), 24 and to offer a sacrifice in keeping with what is said in the Law of the Lord: "a pair of doves or two young pigeons."
25 Now there was a man in Jerusalem called Simeon, who was righteous and devout. He was waiting for the consolation of Israel, and the Holy Spirit was on him. 26 It had been revealed to him by the Holy Spirit that he would not die before he had seen the Lord's Messiah. 27 Moved by the Spirit, he went into the temple courts. When the parents brought in the child Jesus to do for him what the custom of the Law required, 28 Simeon took him in his arms and praised God, saying:
29 "Sovereign Lord, as you have promised, you may now dismiss your servant in peace. 30 For my eyes have seen your salvation, 31 which you have prepared in the sight of all nations: 32 a light for revelation to the Gentiles, and the glory of your people Israel."
33 The child's father and mother marveled at what was said about him. 34 Then Simeon blessed them and said to Mary, his mother: "This child is destined to cause the falling and rising of many in Israel, and to be a sign that will be spoken against, 35 so that the thoughts of many hearts will be revealed. And a sword will pierce your own soul too."
36 There was also a prophet, Anna, the daughter of Penuel, of the tribe of Asher. She was very old; she had lived with her husband seven years after her marriage, 37 and then was a widow until she was eighty-four. She never left the temple but worshiped night and day, fasting and praying. 38 Coming up to them at that very moment, she gave thanks to God and spoke about the child to all who were looking forward to the redemption of Jerusalem.
39 When Joseph and Mary had done everything required by the Law of the Lord, they returned to Galilee to their own town of Nazareth. 40 And the child grew and became strong; he was filled with wisdom, and the grace of God was on him.
Message 'Always Hopeful'
I want to thank all of the people who have prepared and been involved in providing worship materials to our church community this year in the midst of very trying times. It has been a true gift of time and effort that kept us together and growing in faith. This has also been true of the wider church as well with online access and materials available.
Today's worship material is an extract of prayers and moments that I have found meaningful over the last year.
Moments of Surprise or Awakening - to think back over the last year I wonder what moments of surprise or awakening have come up for you this year? This was the question put to the School of Discipleship team in July 2020 and I remember Dr Sureka Goringe (Uniting World) expressed the words 'Courage, Conviction, Capacity'.
Rev Paul Bartlett encouraged us to consider the extravagant and persistent generosity of God, 'God's 'wasteful' love'.
Common Grace's devotions through Advent - on the second day of Advent, Will Small reflected on how God's peace can be found even in wounds, loss, and vulnerability.
And in the Rev Simon Hansford's Christmas message – God says Yes to us.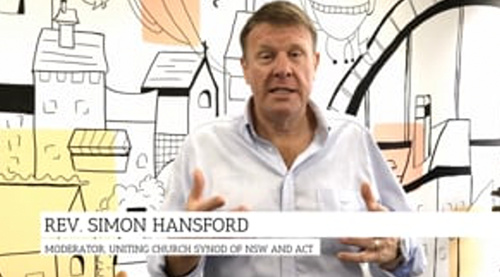 Moderators Christmas Video 2020 with introduction
For me the words that come to my mind are Always Hopeful.
That would be my prayer for us all today. May you always remember that God loves you just as you are. In the taking of one step at a time there is Always Hope and even when we can't see that hope for ourselves, that we lean on our church family to encourage us and walk with us.
Silent Night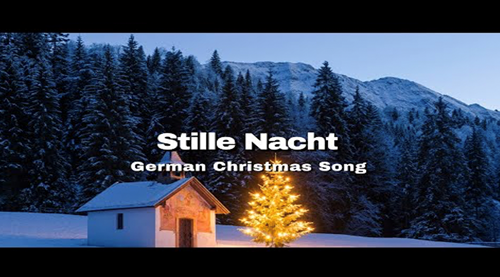 Stille Nacht - Silent Night - German Christmas Song - All 6 Verses (with German and English lyrics)
Prayers for Others
We pray for those who feel forgotten and unseen, may they know that they are remembered and seen by you God.
Search our hearts to reveal those we hide our faces from, the outcast or strangers. Change our hearts, that we may turn our faces towards people and see them as your beloved children.
We pray for those we know who struggle with mental illnesses, anxiety and depression.  Help us to be a friend and a listening ear to those who suffer. Fill us with compassion and wisdom.
Thank you, loving Father God, for hearing our prayer. AMEN
Blessing
May Christ be in your seeing the beauty and pain in the world.
May Christ be in your hearing the laughter and tears of the world.
May Christ be in your thinking and may you never be satisfied with easy answers.
May Christ be in your speaking to tell good news.
May Christ be in your holding with strength and gentleness.
May Christ be in your heart with patience and determination.
May Christ be in your walking to take you far and wide.
May Christ be deep in your soul that you may always know deep peace.
Copyright Anna Siddall Stillpoint Spirituality Centre & Faith community
Hallelujah Chorus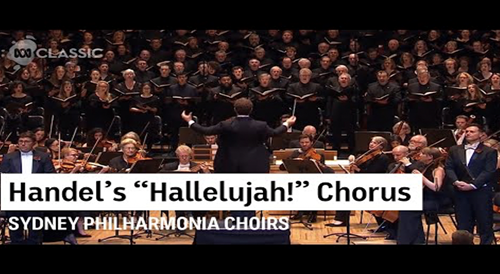 Handel's 'Hallelujah!' Chorus live at the Sydney Opera House