Australia Day Service 26 January 2020
26 Jan 2020 by Loraine H (Reflection), Shane S (Sermon), Heather S (Photograph) in: Sunday Snippits and Sermons
A Reflection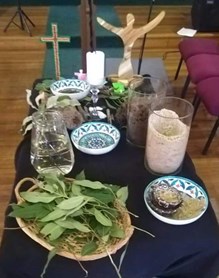 A time of quiet reflection, listening and lament. Our church service on Australia day, lead by Kathy and Shane Slade, commenced with bowls of water, sand, dirt, and gum leaves being passed around the congregation. We could experience, through our senses, the elements of our land on which we walk. Photographs of our feet then ensued as we were reminded to walk gently on land.
Following on from the acknowledgment of country, Kathy gave an inspiring reflection on the Uluru Statement of the Heart and invited us 'explore ways to stand with First Nation People through prayer, action and friendship.'
We heard of the anguish Aboriginal and Torres Strait Islander's feel about Australia day as we listened to young First Nation peoples and Safina Stewart, Melbourne artist with Torres Strait and Scottish heritage.
Shane then spoke on the passages from Matthew 25: 31 – 46 and 2 Cor 5: 16-19.
He reminded us that Australians celebrates Australia day, because, not so long ago, some people arrived on a boat and that is why many of us are here today. The land was not empty it was full of life. But it was empty of pollution, greed, egocentrism of a colonial power far away. It was an invasion resulting in trauma, mourning and cultural survival. Aboriginal and Torres Strait Islander peoples are experiencing sadness, conflict and disrespect. Injustices of First Nation's people are vast and deep as Second Nations peoples benefit from these injustices. We can be paralysed by their enormity.
So what does this mean for Christians? In the Corinthians passage, Jesus is reconciling the world to God and we must be on a reconciling journey with others.  The Matthew passage says so much about how we should live this journey as Christian. Following Jesus, means we subscribe to a life of servant heartedness, loving God and loving neighbour. This means personal investment and giving something of yourself. As Christians we must share the burdens of one another as Jesus spent time among people with their burdens, healing, eating, drinking. So how are we to share the burden of First Nations People?
As Safina Stewart said
"To be our friend …think of us, pray for us, connect with us and love us in word and action. The worst thing you can do is to put us out of your mind, to forget us and ignore us"; " Learn about indigenous culture"; " Do something that you would not ordinarily do to remember us, keep thinking of us and keep praying for us".
The service was a moving and thoughtful time where we could spend time listening to Jesus' words of loving our neighbour, listening to the hurt of our First peoples and reflecting on how we can share this burden.
Written by Loraine. Photograph by Heather