One verse from the poem: An Appeal by Oodgeroo Noonuccal.
Common Grace and First Nation Peoples
 "Today, 29th April 2020 marks 250 years since Lieutenant James Cook landed at Kurnell,' So begins an email sent by Brooke Prentice to our Church full of information, resources, videos and more with links below: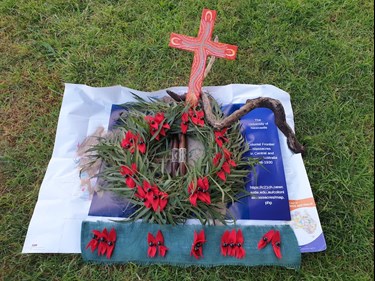 Live recording of a wreath laying ceremony at Kurnell. And full text of the words.
'An Encounter': A blog by Rachael from Common Grace, reflecting on how Jesus met people and how James Cook met the Aboriginal peoples.
A list of resources that you might want to use to further your understanding of our First Nations Peoples. These resources are ways for you to read, watch, listen and create. You can also meditate on historical quotes.
 Making peas/ce after the Frontier Wars. Making wreaths lest we forget the frontier wars.

The Engadine Uniting Church (EUC) is a partner church with Common Grace and is supporting programs and activities to promote Aboriginal Christian leadership. In January 2020, EUC remembered Aboriginal Sunday and on Sunday 26th January joined in grief and sorrow with Aboriginals and their communities.
'Jesus always protects the vulnerable and exposes evil. We want to follow the example of Jesus: our model for equal, loving, and mutual human relationships.' Common Grace Website
Open letter to Federal Parliament
The Engadine Uniting Church has joined other organisations in advocating for the better treatment and protection of first Nations peoples in the Covid-19 environment. See the open letter the EUC has signed.