A Life Transformed
17 Mar 2020 by Karen R (Reflection), Paul Bartlett (Sermon), Photo (https://en.wikipedia.org/wiki/Samaritan_woman_at_the_well#/media/File:Angelika_Kauffmann_-_Christus_und_die_Samariterin_am_Brunnen_-1796.jpeg) in: Sunday Snippits and Sermons
We are now into our third week in Lent and water was the focus of worship and reflection today.  We jotted down on a rain/tear drop shaped piece of paper, a list of where and how water impacts in our life and were surprised at how "life giving" water truly is.  Having been such a drought affected country for so long we came to realise that drinking water, farming water, showering and cleaning with water is certainly not the end story of water in our everyday life: think animals, plants,  birds, health, science and medical - the list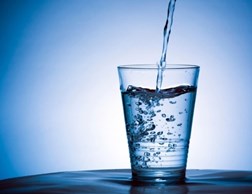 became endless.   In this moment of fear and uncertainty, washing hands thoroughly is our constant daily must do.

After our narrative reading from the Gospel of John (John 4: 1- 42), Rev Paul Bartlett led us through a reflection (see audio below) of the reading: Jesus meeting at the well with a Samaritan woman.  This often sermonised story can touch us in a different way each time we hear it.   We were reminded of Jesus' human side: his need for rest, for water and for privacy as he went alone to the well to drink. 
Jesus' encounter with the Samaritan woman showed once again how Jesus broke down barriers, saw all people on an equal footing and engaged in chat and banter with this troubled woman who was an outcast in her community.  The woman is open and honest with Jesus about her home life, her marital status but Jesus does not judge her. In fact, he encourages her to be totally open and honest with him.  The Samaritan woman at first is bemused and somewhat taken aback at Jesus knowledge of her personal life but through their conversation Jesus is able to convey to her that she may drink of living water, the gospel. 
Rev Paul described the Samaritan woman as a "biblical heroine" the irony being that the Samaritan woman's name is never disclosed so she will always be tagged "as the woman at the well".  Another reason why Rev Paul called her a 'biblical heroine' was because unlike the learned and Pharisee, Nicodemus (John 3:1 - 21) who came to Jesus, at night and left puzzled and uncommitted, the Samaritan woman came in daylight, for all to see, believed in Him and then led others in her village to Christ.
Rev Paul reminded us that no matter what our background or failings, Jesus offers us the drink of "living water".  We are all encouraged to bring 'all that we are' to Christ's presence for healing and wholeness.
Our reflection finished with a Uniting World Video (No 2). Following severe religious and cultural conflict where thousands of people died, Muslim and Christian communities in Ambon, Indonesia are reconciled and are now working together to mend relationships and live together in harmony and with respect.  
Many thanks to Loraine H and Rev Paul for leading us today.