The minister of Engadine Uniting Church is Tammy Hollands.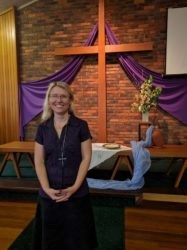 Tammy is a married mother of 3 school aged children.  She is a former high school science teacher who was ordained in 2016.
Tammy has a a Bachelor of Theology from Charles Sturt University which she studied for at the Uniting Theological College. She also has Bachelor of Science and a Master of Teaching from Sydney university.
Tammy Loves animals, and along with her human family lives with 2 dogs, 1 cat and 2 birds.
Tammy is in a part time placement at Engadine Uniting Church (75%) , and is also serving as the secretary of the Georges River Presbytery
Tammy can be contacted on 0409-001-115 or by email at minister@engadine.unitingchurch.org.au